2 'drug peddlers' killed in Comilla, Cox's Bazar 'gunfights'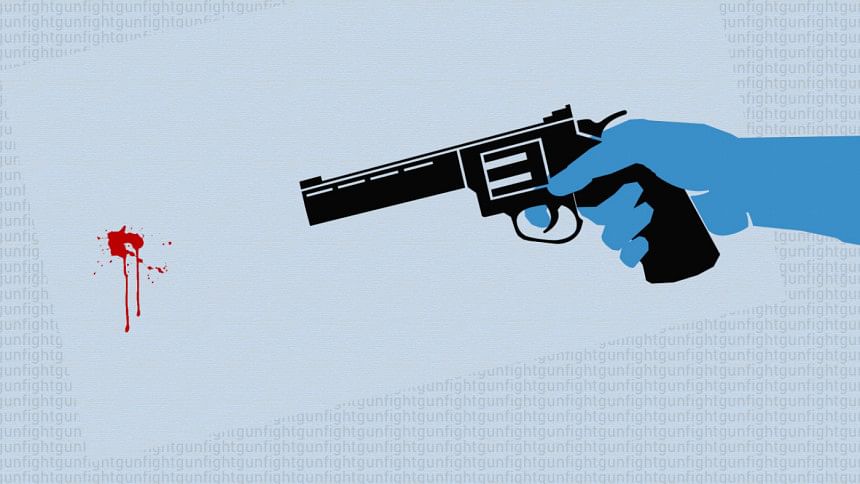 Two suspected drug peddlers were killed in separate "gunfights" in Comilla and Cox's Bazar early today amid the ongoing anti-narcotics drives.
Of the deceased, one was killed in a "gunfight" with police while another killed in a "gun battle" between two groups of yaba peddlers, police said.
With this, at least 129 people have been killed in the incidents of the so-called shootouts across the country in the last 19 days.
In Comilla, the suspected drug peddler Saddam Hossain, 36, was killed in the "gunfight" with police in Chauddagram upazila of Comilla around 2:40am, our Comilla correspondent reports quoting police.
A police team conducted a drive at Koroibon in the upazila after receiving information that a gang of drug peddlers took position in the area, said Abul Faisal, officer-in-charge of Chauddagram Police Station.
Sensing presence of police, the gang fired gun shots at the police, forcing the law enforcers to retaliate, which led to the "gun battle", the OC said.
After the "gunfight", police spotted the bullet-riddled body of Saddam on the spot, said the OC adding that Saddam was accused in 12 cases including 10 drug-related cases.
Four policemen were also injured during the reported gun battle, claimed the OC.
Some 200 bottles of Phensedyl and firearms were recovered from the spot, added the police official.
In Cox's Bazar, the suspected yaba peddler Shahjahan, also chief of criminal gang 'Shahjahan Bahini', was killed in a reported gunfight with his rival group in Chakaria upazila around 1:30am, our Cox's Bazar correspondent reports quoting police.
Shahjahan, son of late Faridul Alam of Baniachhara village in the upazila, was accused in 12 cases, including murder, rape, abduction, said Bakhtiar Uddin Chowdhury, officer-in-charge of Chakaria Police station.
Police recovered Shahjahan's body from the spot and sent it to Sadar Hospital morgue.
They also recovered 400 yaba tablets, one LG and two rounds of cartridges from the spot, added the OC.
Rapid Action Battalion (Rab) launched its own anti-narcotics operation on May 4 while the Police Headquarters on May 16 instructed all police units across the country to conduct special anti-narcotics drives.