3 'criminals' die in 'gunfights'
Wife of one says he was picked up two days ago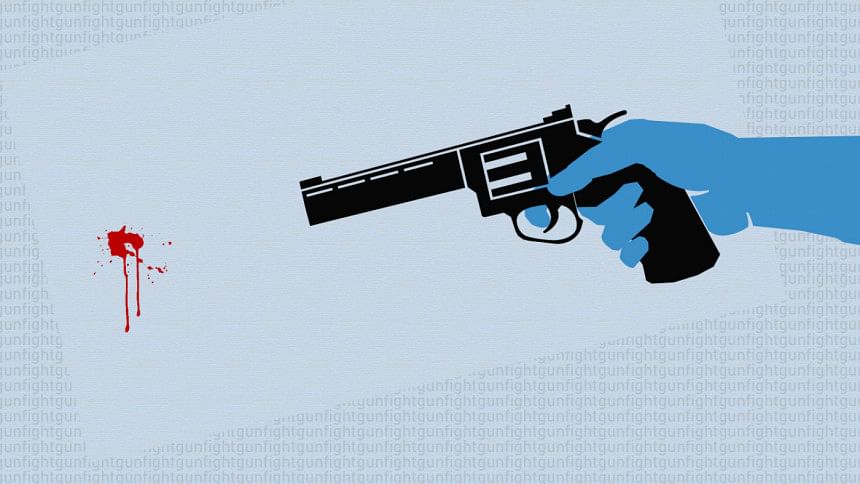 Law enforcers claimed that three drug dealers and criminals were killed in separate "gunfights" early yesterday.
The officers' accounts of the "gunfights" leading to the deaths are strikingly similar to the narratives they had been giving for months.
In Jashore, police said Abu Bakka, 35, who was accused in 12 criminal cases, was shot dead during an exchange of fire between two groups of drug dealers in Choto Achra area of Benapole.
But his wife Safia Khatun told our correspondent that Bakka was picked up from Jashore town on Wednesday by a group of men in plainclothes claiming to be police. However, police said they did not detain him.
Since a crackdown on drugs began on May 4, police in the district have on multiple occasions come up with a similar account of gunfights between gangs after the deaths of at least 23 men who they said were drug traders and other criminals.
This narrative was given after the deaths of at least 50 across the country.
Grieving family members in most of the cases said the victims were picked up by plainclothes men hours or days before they were shot dead.
About yesterday's incident in Benapole, Masud Karim, officer-in-charge of Benapole Port Police Station, said Bakka was killed in a gunfight between two groups of drug traders over establishing supremacy and sharing money.
The OC yesterday said police recovered Bakka's body after being informed by locals. 
Rights activists said "infighting" is a new narrative for extra judicial killings as law enforcers' narratives of "shootouts", "crossfires" or "gunfights" have become clichés over the years.
In Pabna, Rab said Tipu Sheikh, 45, who was killed early yesterday during a "gunfight" with its officers, was accused in eight drug cases.
Lt Commander Ruhul Amin, company commander of Rab-12, said the gunfight took place when a team of the elite force raided Rajapur Kaliko Cotton Mill area around 3:00am after being tipped off about the presence of drug dealers.
He added that Tipu was shot when armed gang members began to shoot at Rab men and they retaliated.
Tipu was pronounced dead at a local hospital, the officer said.
A firearm, five bullets, and 770 yaba pills were recovered from the scene, he said.
At least 243 people were killed across the country since the anti-narcotics drive began. Law enforcers said all of them were drug dealers. Most of them were killed in so-called shootouts with Rab and police.
Police yesterday said they recovered the body of Abul Hossain, 40, an accused in "several cases" in Narayanganj.
Moniruzzaman, officer-in-charge of Rupganj Police Station, said Abul was shot during a "gunfight between two groups of robbers" at night following a feud over shares of the loot.