Double crop farming
Lalmonirhat farmers cultivate two crops at same time for the same cost as for one item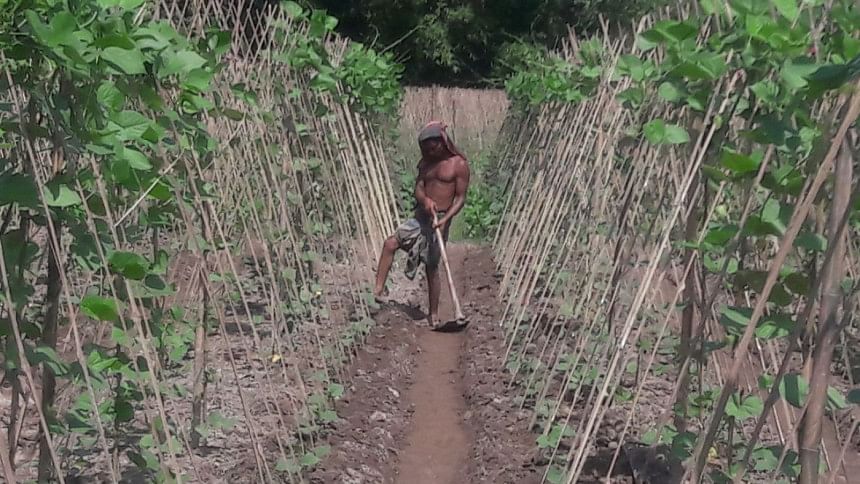 Simultaneous cultivation of two crops on the same land is gaining popularity among farmers in the district as they get better profit for the same expenditure as for one crop.
Many farmers are getting the benefits of the method of farming, and many others are getting interested in it. Agriculture officials are also creating awareness and interest among the farmers for fallow crop farming.
Anowar Hossain, 46, of Durakuti village in Sadar upazila said he started the innovative farming, locally called sathi fasal, two years ago after seeing its benefit in neighbouring villages. "I have cultivated beans on 50 decimals of land and also cucumber in the same field at the same cost as for one crop," he said, adding that he spends extra only for additional labour.
"Bed system is essential for such farming and there is no shortage in production of crops in this system," said farmer Meherul Islam, 52, of the same village. "In this system, farmers should take proper care of the cropland," he added.
Farmer Surendranath Barmon, 58, of Kamlabari village in Aditmari upazila, said he has cultivated pumpkin on 85 decimals of land and also chilli on the same land at the same cost. "I have been enjoying the benefit of double crop farming for the last four years," he said, adding that he advises local farmers to cultivate in the way to increase their earning.
"We especially avoid using chemical fertilisers and pesticides in fallow crop fields, and use compost instead," said Khoka Miah, 55, of the same village. "We use the bed system of cultivation as it helps us to get bumper yield of crops," he added.
Lalmonirhat Sadar Upazila Agriculture Officer Enamul Haque said agriculture officials always encourage farmers to cultivate crops, especially vegetables, using bed system. "The double crop farming is enriching our agriculture sector," he added.
Deputy Director of the Department of Agriculture Extension (DAE) in the district Bidhubhuson Roy said farmers are earning better profit from farming crops, especially vegetables, on the same land at the same cost. DAE officials are popularising the two-crop farming among the farmers, he added.