Lightning kills 10 in Dinajpur, Sunamganj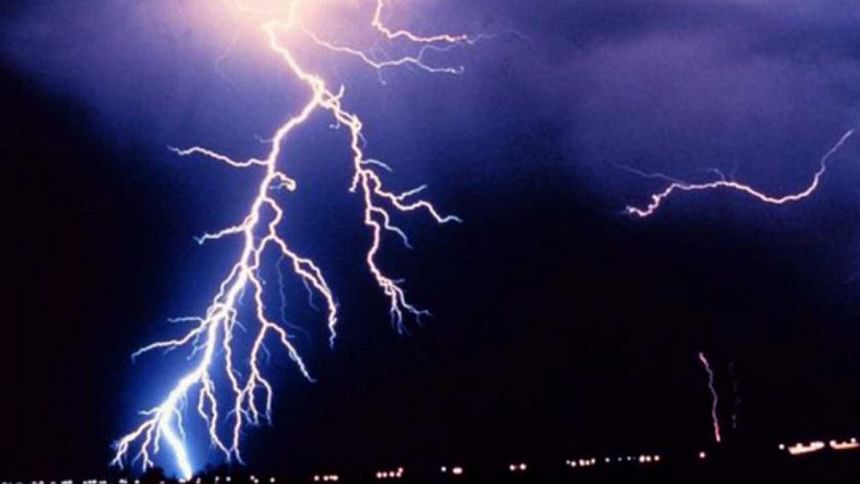 At least 10 persons were killed and seven others injured in separate incidents of lightning strikes in Dinajpur and Sunamganj today.
In Dinajpur, eight persons including two women died and seven others were hurt in lightning strikes in Biral, Khanshama, Chirirbandar, and Bochaganj upazilas, reports our local correspondent.
The deceased were identified as Naba Kishore Roy, 14, Bonita Rani Roy, 30, Meser Ali, 32, Sukuddin, 33, Dhananjay, 33, Shahida Begum, 32, and two unidentified victims.
Around 11 persons took shelter from rain under a temporary shed in Rajarampur village under Biral upazila around 1:30pm when a lightning struck the shed, leaving three persons dead on the spot and injuring others.
Locals rushed the injured people to M Abdur Rahim Medical College Hospital where another succumbed to his injuries. His identity is yet to be known.
Meanwhile, Dhananjay, a farmer in Alokdihi village under Khanshama upazila, died in a lightning strike while working in a field around 1:30pm.
Another unidentified person died in Bochaganj upazila being struck by lightning this afternoon.
Earlier around 3:00am, Shahida Begum of Chirirbandar upazila died being struck by lightning when she came out of home to cover her earthen stove from rain.
Abdul Mozid, officer-in-charge of Biral Police Station, confirmed the incidents.
In Sunamganj, two persons were killed in lightning strikes around 11:00am today in Ghripura village under Jagannathpur upazila, reports our Moulvibazar correspondent.
The deceased were identified as Abdul Ahad, 45, and Sujat Mia, 16.
Ahad was catching fish in a local swamp while Sujat was on his way to school when they were struck by lightning. Both of them died on the spot, said Abdul Hasim, chairman of Kolkolia Union Parishad under the upazila.
Harun-or-Rashid, officer-in-charge of Jagannathpur Police Station, confirmed the incidents.