Inner Wheel Club of Dhaka Uptown making a difference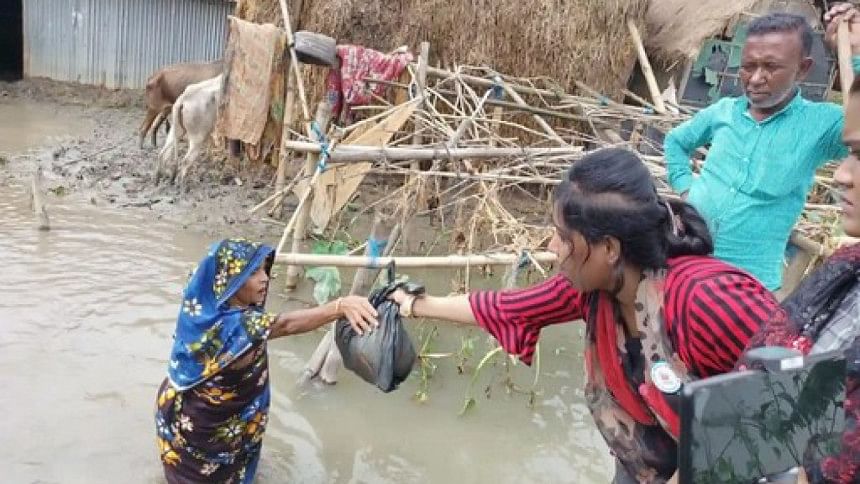 With a vision to improve the lives of the underprivileged, Inner Wheel Club (IWC) of Dhaka Uptown strives to restore harmony by establishing women's rights, ensuring maternity healthcare, fighting poverty and diseases, providing education, and much more.  
International Inner Wheel is a women's organisation which focuses on friendship, understanding and service, while operating in 104 countries worldwide.
Inner Wheel Club of Dhaka Uptown has launched two major projects till now, the most recent being the flood donations for Sylhet. Farzana Sharmin, Vice-President, IWC of Dhaka Uptown after realising that the situation in Sylhet was outright alarming planned on standing by the people as a part of IWC Dhaka. On June 18, the initiation began for the benevolent project. With the same determination to ease the woes of Sylhet, Nafisa Tarannum, President, IWC of Dhaka Uptown called upon club members to work together to support the flood victims.
Suraiya Akter Chishty, Secretary of Dhaka Uptown distributed chira, molasses, rice, pulses, biscuits, saline, candles, matchboxes and other necessary items among more than 300 helpless families of Sunamganj Sadar Upazila Lalpur, Ambari Ghat, Haoria Alipur of Jamalganj Upazila, Islampur, Mashalghat and Shibpur village. Accompanying her were social workers Md. Tofazzal Hossain, Khandaker Shahidul and Shagor Mia, without whom the project wouldn't have been smooth and as successful.
Despite having lesser members than other clubs, each and every one of the members played a significant role in raising funds through their contacts and social media platforms, thereby inspiring other social workers.
While conversating with the Daily Star, Nafisa Tarannum informed that their responsibilities did not end at food distribution. The club had future plans of taking care of any possible viral infections, such as cholera, in the flood affected areas. In addition, to that the club hopes to open a shelter house in the flood prone region for people's safety in case of an unwarranted natural disaster, in the future.
Inner Wheel Club of Dhaka Uptown truly believes that people's trust and support will give them the strength to keep up the good work, and devote themselves better in social welfare.