"Just 2 weeks ago, we faced flash flood and now another blow"
6 Sunamganj, Sylhet upazilas among worst affected in flood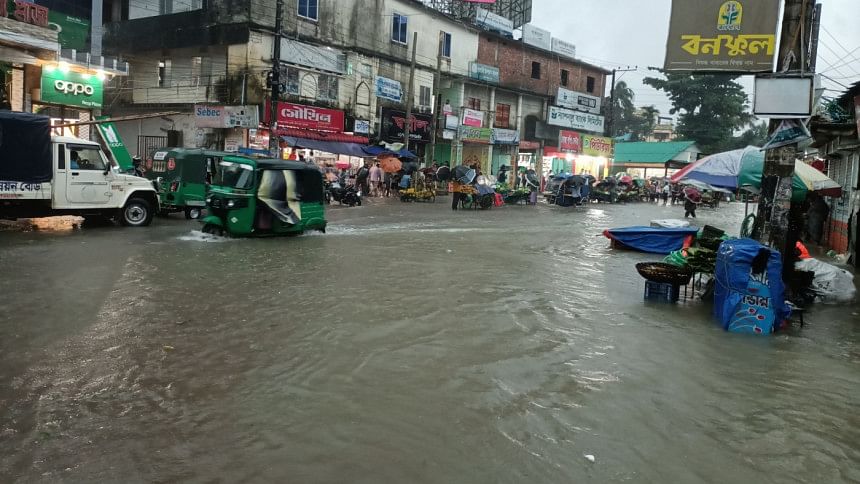 Residents of Chhatak, Bishwambarpur, Tahirpur and Dowarabazar upazilas of Sunamganj and Companiganj, Gowainghat upazilas of Sylhet, including the city corporation areas, are badly affected due to the ongoing heavy rain and flood.
In Chhatak point, the water of Surma river was flowing above the danger level of 235 cm, according to sources.
Rickshaws and boats are plying instead of cars in Chhatak town. Already, 4 lakh people of 13 unions and one municipality of Chhatak upazila have been stranded. About 20,000 people have already taken shelter in various centres. Direct road connectivity of 13 unions with upazila Sadar has been cut off.
Chhatak Upazila Executive Officer Mamunur Rahman said the flood situation has deteriorated drastically and nearly 4 lakh people have been isolated, adding that all educational institutions in the upazila have been opened as shelters. Relief assistance is being provided to the flood victims.
In Dowarabazar, the water levels of Surma, Chela, Marachala, Chillai, Chalai, Kaliuri, Khasiyamara, Dhoomkhali, Moula and Goatchera are still flowing above the danger line.
At the same time, many houses, including shops, buildings and roads on the banks of the river, are collapsing in the waves. Many families could not take shelter in the centres as they were busy protecting household goods. People in those areas are starving with cattle and families.
Dowarabazar UNO Devanshu Kumar Singh said the district and upazila administrations are undertaking emergency relief efforts including allocation of water purification tablets, emergency medicines, dry food and rice and pulses in the affected areas.
Sadek Mia of Bishwambarpur upazila said more than 50,000 people are in flooded areas in Vishwambharpur due to excessive rainfall.
UNO Md Saadi Ur Rahim Jadid said in the flood-affected villages relief was distributed from house to house by boats. A total of 100,000 people are staying in nearly 100 shelters.
There has been no electricity for the past three days in Tahirpur upazila. Thousands of people are stuck at home as road connectivity has been cut off.
Tahirpur UNO Md Raihan Kabir said in the affected areas, 20 metric tonnes of rice have been allocated through the chairman of the union parishad. Water is flowing above the danger level of the Jadukata river.
"The high level of water reminds us 2004 and 1998 floods. Most people are going to shelters, but we need shelters too. Urgent help is needed to take people to the shelters," said Karim Mahmood of Gachhagram village of East Jaflong Union in Gwaiinghat upazila.
Aminul Islam, a resident of Sylhet city, said, "Just two weeks ago, we faced flash floods and now another blow, which has become even more devastating. We don't know how long we will be stuck in the flood."
Sylhet Deputy Commissioner Md Majibur Rahman said, "The situation is becoming worse and the army has responded to our call to help people trapped in the floods. We are doing our best to rescue people and increase relief for them. "