Crop cultivation chokes Khoranadi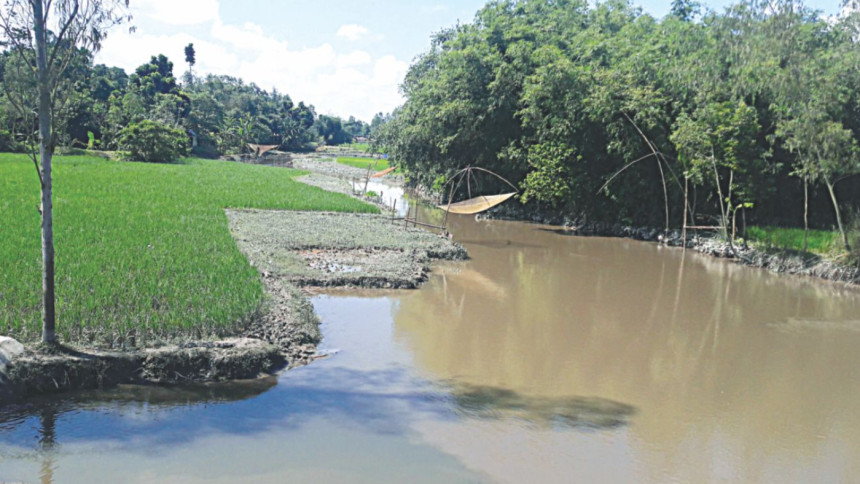 Khoranadi, a small river at Uttar Saptana and Fulgachh villages in Sadar upazila, has been turned into a canal as some local people have allegedly grabbed its land for farming crops.
Khoranadi got its name as it was developed into a small river by digging 65 acres of land about 60 years ago.
Jatramohan Barmon, 48, of Uttar Saptana village said the land was once owned by some local landowners, but it was recorded as the government's khas land after the country's independence, and it was being used by local people since then. "We depended on Khoranadi till 2000 as water was available in the river round the year," he added.
Ashraful Islam, 50, of Fulgachh village said some local people allegedly started filling the river for farming crops in 2000. "The river turned into a canal in 2007-2008 and now we cannot use it," he said.
Fisherman Jahir Uddin, 65, of Uttar Saptana village said they used to earn their livelihood through fishing in the Khoranadi, but they have not been able to fish for the last few years as the small river has turned into a canal. "We get water in the river during the rainy season, but it remains dry for most of the year," he added.
"Khoranadi was once known for abundance of local fish," said local farmer Shafiqul Islam, 58, of Fulgachh village.
One of the alleged land grabbers, Syed Ali, 47, of Uttar Saptana village, said he has been farming crops on the river's land as many local are also doing it. "If the government takes steps to free the land, I will of course give up possession of the land," he added.
Member of Mogholhat Union Parishad in Sadar upazila Liton Islam said he has requested the authorities concerned to save the Khoranadi river from the clutches of land grabbers.