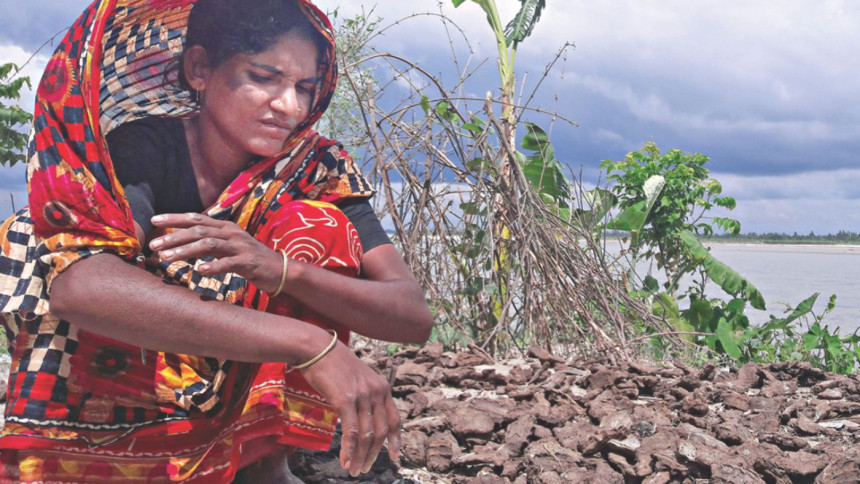 Kohinur collects cow dung from the fields and then dries it to sell in the town.
Like her, many women in the char areas of the Teesta and Dharla rivers in the district earn their livelihood from selling dried cow dung.
Kohinur Begum, 42, wife of Ainuddin Miah of Dharla river char Shiberkuti in Sadar upazila, said she can collect 45 kg to 50 kg of cow-dung every day and earn around Tk 600 a week.
It takes 110 kg to 115 kg of cow-dung to get 40 kg (one maund) of dried cow-dung, which is being sold at Tk 250 to Tk 280 per maund.
 "We use dried cow dung as fuel for cooking, so we do not have to purchase firewood," said Aklima Begum, 38, of the same char. "Selling dried cow dung is a source of income for us," she said, adding that many char women are also earning a living by selling those.
"I get a big amount of cow dung from our eight cows every day, some of it, we use as compost in our cropfield and sell the rest after drying. I earn about Tk 1,000 every week by selling dried cow-dung," said Mohsina Bewa, 48, of Teesta river char Dawabari in Hatibandha upazila.
Abdul Majid, a footpath tea-stall owner on Hospital Road in the town, said he prefers using dried cow dung as fuel as it is cheaper than firewood. "I need 60 kg to 65 kg of dried cow dung every day, and I buy it from the char women," he added.