College students block Dhaka-Aricha highway for an hour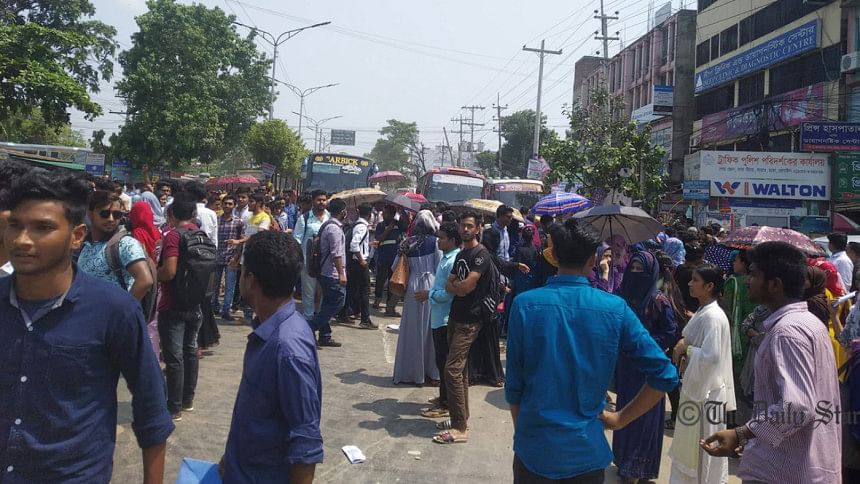 Students of Government Savar University College blocked the Dhaka-Aricha highway in Savar for an hour this afternoon demanding reduction of their tuition and other fees.
Following the highway blockade, vehicular movement was disrupted, resulting in traffic jam on the both sides of the highway.
To press home their demand, the agitating students blocked the highway at Thana stand in Savar, on the outskirts of the capital, around 1:00pm.
They withdrew the blockade around 1:50pm after the college principal reached the spot and requested the students to free the highway.
"We have left the highway following the assurance of principal. We would announce tougher programme if the demands are not met immediately," said a student of the college, seeking anonymity.
The college is one of the "298 colleges" which were nationalised by the government last year, our Savar correspondent reports quoting the college authorities and students.
Students said although the government has nationalised their college, the authorities have been taking monthly tuition fee Tk 730 from them like that of a private college.
As their institutions have been nationalised, they are supposed to pay Tk 30 tuition fee, the student said.
"We want facilities including tuition and exam fees like those of other government colleges," they said.
Acting principal of the college Abdul Halim told our Savar correspondent that the government has nationlised "298 colleges" across the country but no colleges started getting government facilities.
"We are trying to discuss the issue with the government to get the facilities" the principal added.