China offering visa on arrival for Bangladeshi travellers
Beijing giving Dhaka 'higher priority', say embassy officials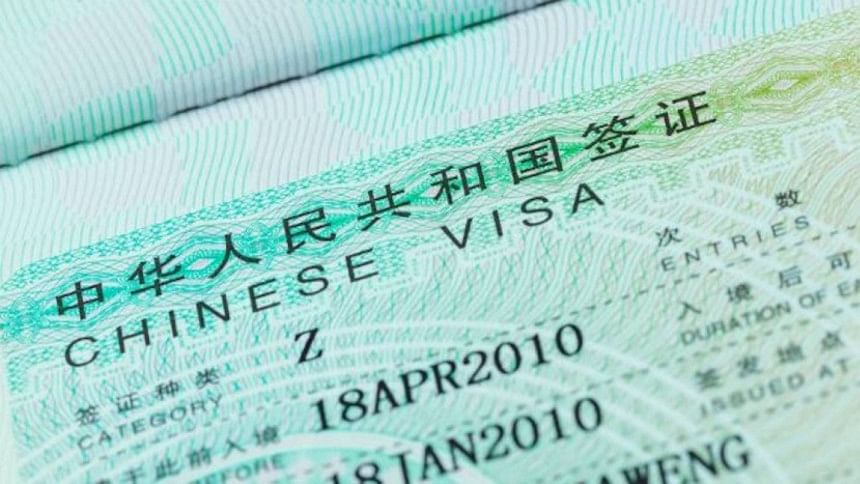 China has announced "visa on arrival" for Bangladeshi citizens who need to visit the country on urgent humanitarian, business and other grounds.
"Bangladeshi citizens who are qualified and able to provide relevant supporting documents can apply for port visas at relevant Chinese ports," Chinese Embassy spokesman and political counsellor Chen Wei said.
Wei said foreigners who need to enter China urgently for humanitarian reasons, or who are invited to enter the country for urgent business or other needs, or are set to visit China as tourists, facilitated by Chinese travel agencies, are eligible.
The Ministry of Public Security at the ports is the authority to issue the visas by the State Council.
The duration of stay for port visas should not exceed 30 days.
According to a press statement issued in Dhaka yesterday, China's port visa system does not impose restrictions on specific countries, but only makes requirements for entry purposes.
According to the Chinese Embassy, the number of Bangladeshi visitors to China is increasing each year. In 2016, the number of visitors was 39,055 and it stood at 47,430 in 2017. As of now, the number of Bangladeshi visitors has already crossed 50,000.
Meanwhile, Chinese Embassy officials said the introduction of visa on arrival will bring a positive impact and greatly help people who need to visit China urgently.
They said Beijing is giving Dhaka a "higher priority" in its diplomatic policies.
In 2017, the bilateral trade value reached $16 billion, 5.8 percent higher than that in 2016, with China remaining the number one trade partner of Bangladesh.
The bilateral trade between the two countries in the first half of 2018 stood at $9.35 billion, a 17.6 percent year-on-year-increase. Chinese investments stand at $85.94 million and $380 million in terms of stock, they added.