'Child murderer' killed in 'gunfight' with Rab in Gazipur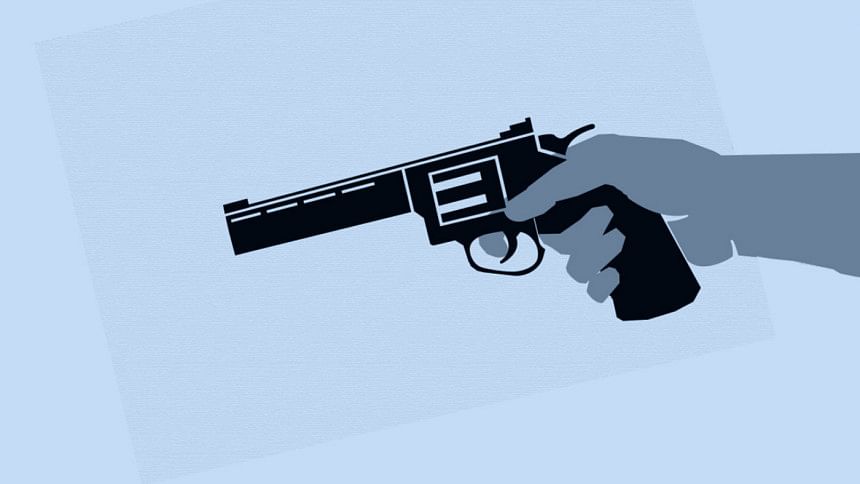 A fugitive in a child murder case was killed in a "gunfight" with Rapid Action Battalion (Rab) in Gazipur early today.
The incident took place in Konabari area, our Gazipur correspondent reports, quoting a Rab official.
The deceased was Jewel Ahmed alias Sabuj, 22, prime accused in five-year-old Alif murder case in the district, said Abdullah Al Mamun, company commander of RAB-1 Gazipur Porabari Camp.
Before this incident, Rab arrested another youth Sagar, a friend of Jewel, on Saturday night from Pubail area of Gazipur city, the Rab official said.
Following his confessional statement, Rab recovered the decomposed body of the child Alif wrapped in a plastic bag from a garment's wastage godown in Konabari, he added.
Sagar told Rab that Jewel was the mastermind behind abducting and killing the child to realise ransom from his parents, the Rab official added.
Based on Sagar's information, Rab men conducted a drive at Konabari area around 1.30am to nab Jewel, he said.
Sensing the elite force's presence, Jewel opened fire at them, forcing them to retaliate with gun shots and triggering a gunfight, Mamun said.    
Jewel was shot dead on the spot, while two Rab men also received injuries, he added.
The body was sent to Gazipur Shaheed Tajuddin Ahmed Medical College Hospital morgue for autopsy while the injured Rab men took primary treatment from the same hospital, said the official. 
A foreign made pistol and ammunition were recovered from the spot.
Jewel, Sagar and another youth, who is currently on the run, used to live at the rented house in Konabari, owned by the victim Alif's father Md Farhad, and worked at garment factories, said Mamun.
Alif's father slapped Jewel and Sagar about a week ago for teasing female garment workers in the area, he added.
They then planned to abduct the child and ask for ransom to teach the child's father a lesson, the Rab personnel said.
Last Wednesday evening, they took Alif to the rooftop and strangled him, he said.
They dumped the body in the garment's wastage godown in a plastic bag in the same building and fled the house the next morning, he added.
Later, they demanded Tk 20 lakh over a mobile phone call as ransom from the victim's father.
Rab men arrested Sagar on Saturday from Pubail area using mobile technology, following a complaint filed by the family, Mamun said.