Rab must answer for latest killing
The way it conducted its operation in a Narayanganj village is concerning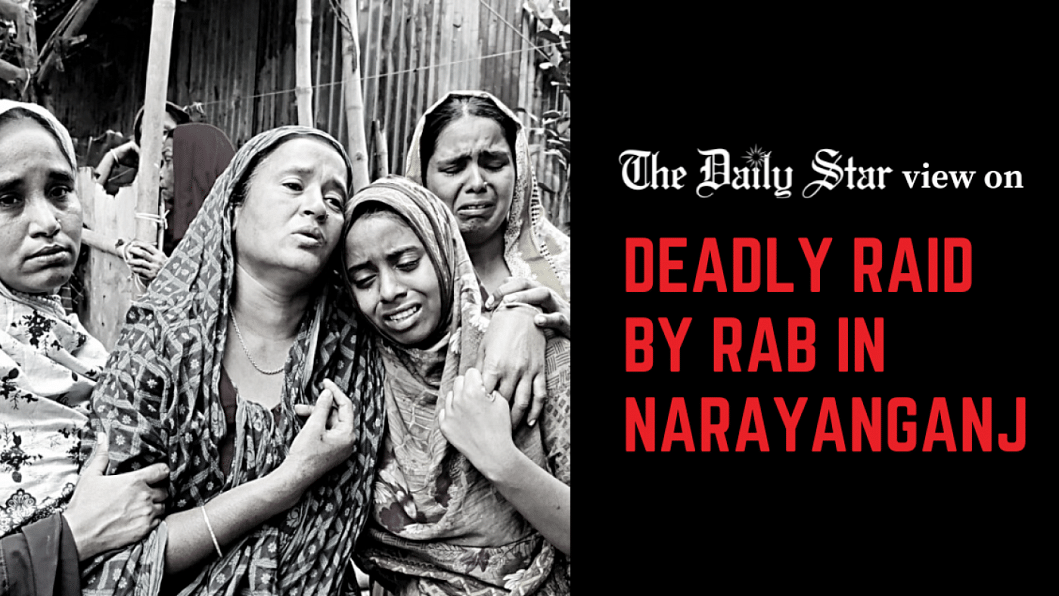 We are alarmed by the news of the death of a 65-year-old man during a raid by the Rapid Action Battalion (Rab) in a Narayanganj village recently. Reportedly, at midnight on March 17, a team of Rab-11 went to the Borgaon village in plainclothes to arrest a man who, Rab officials claimed, was a suspect in a murder case. As they picked him up from his house, his family members protested, urging them to reveal their identity. But Rab members reportedly didn't do so, instead threatening them for asking questions. Seeing plainclothes men take away one of their neighbours, villagers soon came out of their houses and engaged in altercations with the Rab members, thinking they were robbers.
At one point, Rab shot the victim, Abul Kashem, in the stomach from close range, while also shooting another in both legs. According to Ain o Salish Kendra, this is the fifth killing in "gunfights" involving Rab since the US sanctions imposed on it on December 10, 2021.
The incident raises serious questions about Rab's way of conducting operations in which public rights seem to be not inalienable. Such actions also make them lose their credibility as an elite force. In this particular incident, it is clear from the villagers' account that they didn't know that the men raiding the so-called suspect's house were actually Rab members, who only disclosed their identity after villagers clashed with them. However, as in most such cases, Rab members gave a completely different account of the incident. According to them, some armed miscreants attacked them during their operation despite knowing their identity, and they fired gunshots in self-defense. Sadly, this is not the first time that we have heard such claims from Rab. This has, in fact, become the default narrative of Rab whenever a civilian is killed or harmed extrajudicially.
Rab must answer some questions relating to Friday's incident. First of all, why did they go to arrest a man from his house in plainclothes? When the villagers asked them to reveal their identity, why didn't they do it? Also, can they pick up a man – whether a murder suspect or any other criminal – in the middle of the night without any arrest warrant? Why would an innocent man have to lose his life for defending the right of a fellow villager?
We must recognise Rab's achievements in neutralising terrorist elements in the country, but the way they sometimes deny citizen's rights while conducting their operations is not acceptable at all. While deaths and injuries at the hands of Rab members keep happening, we have hardly seen any proper action to hold to account those responsible for them. We demand an independent investigation into the latest incident, and hope that those involved will be brought under the law. Such incidents must never happen again.