Watch Now: Rare books in ruins at Northbrook Hall
If you walk down the Farashganj road near the banks of the Buriganga River, you will come across the Northbrook Hall Library. From outside, it would look like an abandoned building. But once you get in, you will find hundreds of rare books — published in the nineteenth century. Some of these may not be found elsewhere in the world.
But like the building itself, the library is rotting due to utter negligence and oblivion. Each time there is rain, the books become damp because the rain waters drip down from the ceiling.
The Daily Star correspondent visited the library for two days to talk to the curator of the library but did not find him.
Walk around the library, you will catch glimpses of the rare books. Some of these books are original first editions. These include historian James Mill's History of British India, Sir Lepel Griffin's Rulers of India and many books of the nineteenth century's remarkable writers, researchers, and novelists.
The Northbrook Hall was incepted on the Buckland Bund of River Buriganga in 1879. The library was established there on February 8 three years later.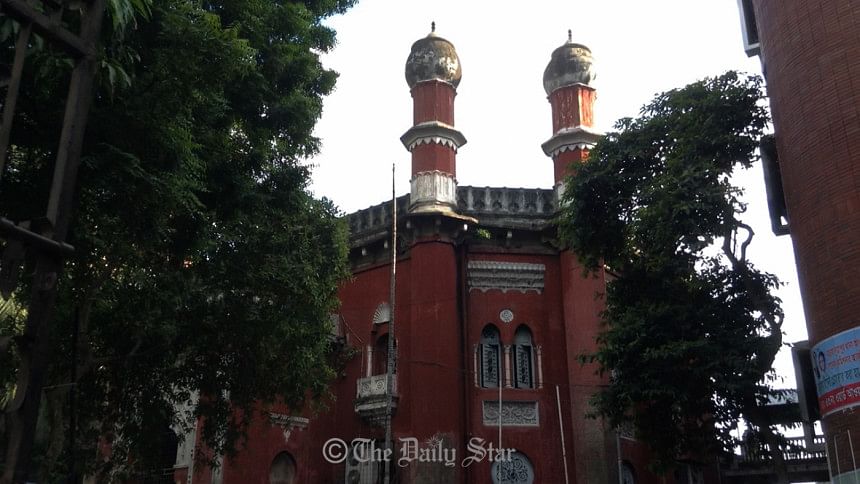 The Hall is a fusion of Mughal and European Renaissance architectural styles. It is a remarkable relic of colonial period.
Recently the Ministry of Cultural Affairs took steps to preserve and restore the books. Their work plan however has not paid any attention to the historic architecture.
If the books are preserved separately outside the library, this architecture of such historical importance will be lost.