Cattle traders in tears
BGB seizes 27 cows, claims those are Indian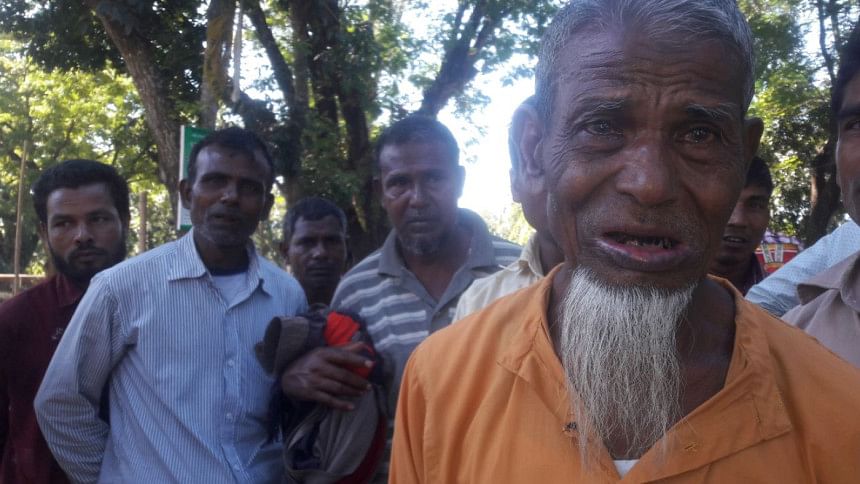 Tears roll down the cheeks of 21 cattle traders in Sadar upazila as Border Guard Bangladesh (BGB) yesterday seized their cows, saying the cattle were brought from India.
Thirty-one cows were seized. Of them, four were released as they had valid documents, said a BGB official.
Maqbul Hossain of Khoragach village said he along with his son Ekramul Islam has been running cattle trade by investing a small amount of capital.
"We purchased three cows from Kurigram's Bhurungamari Hat. When we went to Nayarhat cattle market in Lalmonirhat Sadar to sell them yesterday morning, BGB men seized the cows, declaring those were brought from India," he said in  tears.
"If we don't get back our purchased cows, we will lose our capital and face poverty," said Maqbul's son Ekramul.
Another cattle trader Mozammel Haque of the same village said he purchased a cow from Kurigram's Singardabri Hat at Tk 24 thousand and it was seized by BGB men when he was taking it to Nayarhat cattle market for sale.
"I started the business by investing little amount of money and my family is dependent on cattle trading," he said.
Rafiqul Islam of Barabari village in Lalmonirhat Sadar said he purchased a cow from Kurigram's Bhurungamari Hat. But it was seized by the border guards on the way to Nayarhat cattle market yesterday morning.
"I along with other cattle traders showed cow purchasing documents but BGB men didn't accept those due to unknown reason," he said, adding that he invested a small amount of money borrowed from an NGO.
Lt Col Golam Morshed, commanding officer of BGB-15 Battalion, said the self-claimed claimed cattle traders did not show valid documents on purchasing of cows. The border guards seized the cows as they were Indian cattle.
The documents of Kurigram's Bhurungmari Hat are fake, he said.