Train crash: Family loses mother while returning after burying father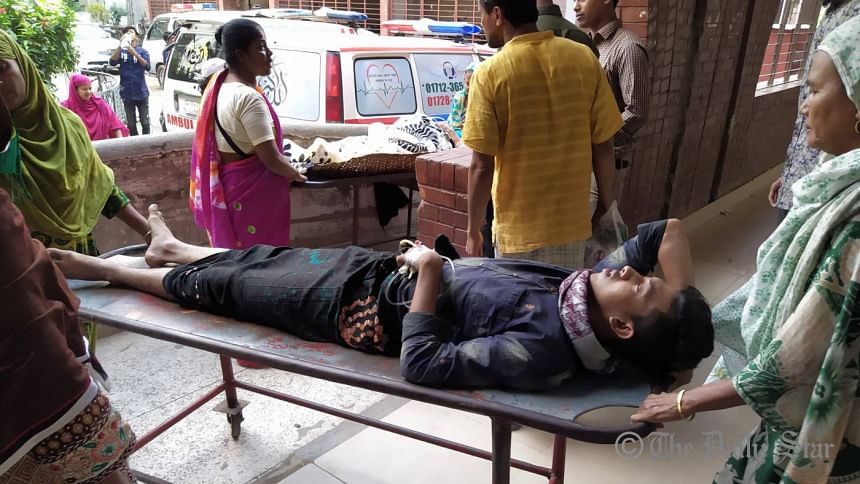 Six members of a family were returning to Chattogram by Udayan Express last night after burying one of their family members in Sreemangal of Moulvibazar.
On Thursday, Md Muslim, 50, was killed in an accident at a ship breaking yard. The grief-stricken family went to their ancestral village in Sreemangal from Chattogram and buried him.
Muslim's wife Jahera Khatun, 48, along with her four children and mother took the train, Udayan Express, to return to their home.
When they reached Brahmanbaria's Koshba, Dhaka-bound Turna Nishita Express crashed into it, leaving, Jahera Khatun dead on the spot.
Four other family members including Muslim's 18-year-old son Md Emon, were injured in the accident while one remained unharmed, reports our correspondent quoting the son.
Md Emon is now undergoing treatment at the National Institute of Traumatology and Orthopaedic Rehabilitation (Nitor) in Dhaka with fractures in his waist and hands.
Emon's elder sister Shahida Akhter Shumi, 23, an honours second year student, and maternal grandmother Suraiya Khatun, 70, suffered several fractures and were admitted to the hospital, Assistant Registrar of Nitor Dr Moni Shankar Nitor confirmed saying that all of them will need surgery.
His seven-year-old sister Sajeda Akhter Mim sustained minor injuries and was receiving treatment at Brahmanbaria Sadar Hospital while elder brother Md Sumon, who was in a different compartment and was unharmed, was attending Mim at the hospital, Emon said.
"We were returning to home in Chattogram after burying my father beside the graves of my grand-father and grand-mother." Emon said adding that everyone except his elder brother were travelling in the compartment "Jha", which was hit by the Turna Nishita. Md Sumon was in Compartment "Dha".
Around 3:00 am, Emon felt a sudden and severe jolt followed by immense pain in his entire body. Then he felt something heavy on his body.
As he tried to move the heavy object over him, he noticed his elder sister lying on the floor of the train and crying for help, said Emon, an HSC first-year student of Chattagram Bhatiali Bijoyshoroni College.
Although he was able to move the heavy object from over him, he couldn't get up. A while later, some people came and tried to help him, but he still couldn't move.
Later, his brother, an owner of an electronics-repairing store in Chattogram, appeared at the scene. With the help of others, brother Sumon rescued him and others of the family. But their mother Jahera, was found dead, Emon said while narrating the harrowing experience.