Bangladesh, Vietnam eye extending ties in security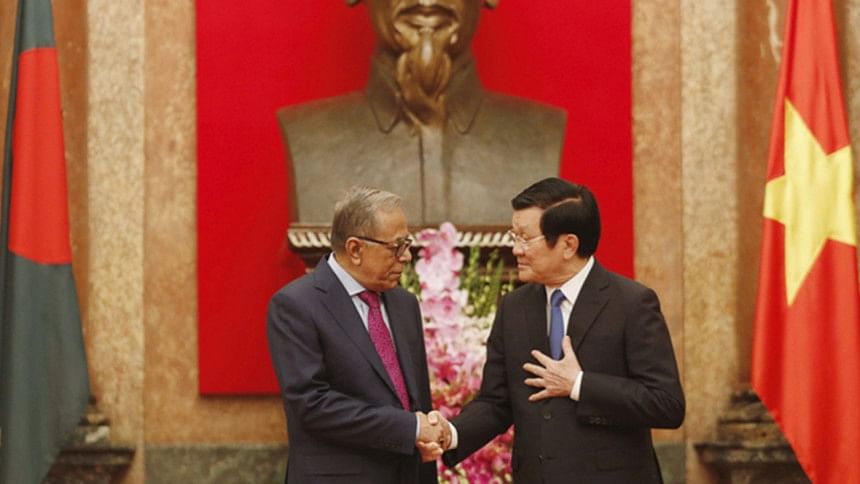 President Abdul Hamid today met his Vietnam counterpart Truong Tan Sang and discussed security, connectivity, trade, investment, tourism and culture.
Both countries agreed to co-operate one another in the field of security and defense through exchange of delegations, experience sharing in peacekeeping operations, combating transnational crimes and irregular migration.
The two nations expressed their hope in official talks between Bangladesh President Md Abdul Hamid and his counterpart Truong Tan Sang, said a foreign ministry press release.
President Abdul Hamid with his 10-member delegation went Viet Nam to pay a four-day state visit there at President Truong Tan Sang's invitation.
Expressing satisfaction, they discussed issues of expanding of bilateral trade and investment and agreed to explore further trade potentials.
They also agreed to foster cooperation, sharing of experience and expertise in agriculture and aquaculture sustainable development.
The two presidents also expected to fully and effectively implement the Memorandum of Understanding on Aquaculture and Farming Cooperation and the Memorandum of Understanding on Agricultural Cooperation concluded during the visit to Vietnam by Bangladesh Prime Minister Sheikh Hasina in 2012.
The President is scheduled to meet the general secretary of the Vietnam Communist Party, the Chairman of the Vietnam National Assembly and the Vietnam Prime Minister later in the afternoon.