UZ election ends amid low voter turnout, stray incidents
Cop, 4 others sustain bullet injuries in Ctg, Cox's Bazar, presiding officer held in Manikganj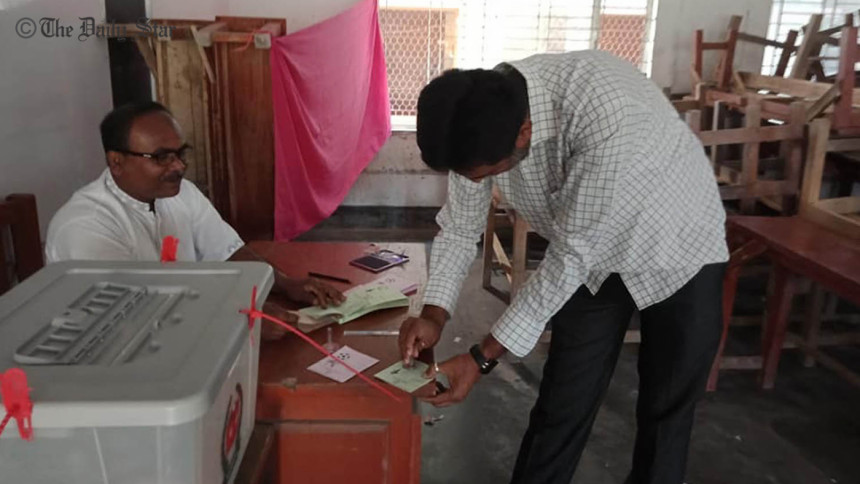 The third phase elections to 117 upazila parishads concluded this afternoon amid a low turnout of voters and stray incidents of violence.
The election that began at 8:00am and continued till 4:00pm saw low voter turnout, similar to what was observed during the first and second phases. Besides, several incidents of violence and irregularities were reported from different areas.
Five people including a policeman sustained bullet injuries in separate clashes during elections in Chattogram and Cox's Bazar districts today.
In Chattogram, a constable sustained bullet injuries in a clash between supporters of an Awami League candidate and law enforcers at a polling centre in Chandanaish upazila.
Farhad, a constable of the Chandanaish Police Station, sustained bullet injuries in the clash, Keshab Chakrabarty, officer-in-charge of the police station, told our local correspondent.
The clash took place when supporters of Nazim, who is contesting the election with Awami League electoral symbol 'Boat' tried to take control on the Purbo Chandanaish Primary School polling centre around 9:00am, the OC said.
Following the incident, voting at the polling centre was suspended, the OC added.
Meanwhile, the police constable, who received bullet injuries was taken to the National Institute of Cardiovascular Diseases (NICVD) in Dhaka by a helicopter from Chittagong Medical College Hospital (CMCH), Sub-Inspector Jahirul Islam, in-charge of the CMCH police outpost, said.
Additional Superintendent of Police (Anwara circle) Mofizuddin said a group of local Awami League men led by Awami League upazila chairman candidate Nizamuddin allegedly started firing at the policemen to take control on the voting centre, leaving constable Farhad critically injured.
At one stage, the law enforcers were forced to fire back, our Chattogram correspondent reports quoting the ASP.
In Cox's Bazar, two groups—one led by Awami League nominated candidate Abul Kashem and another one led by his rebel contestant Jahangir Alam – reportedly traded gunfire near Noknama Government Primary School polling centre in Pekua upazila around 9:30am to take control on the polling centre, said Mohammad Jakir Hossain Bhuiyan, officer-in-charge of Noknama Police Station.
Four people sustained bullet injuries in the gun firing, our Cox's Bazar staff correspondent reports quoting an eyewitness.
Talking to the correspondent this afternoon, the OC confirmed about the incident of exchanging the gun firing between the two groups but denied the report of injuries.
Besides, three vice chairman candidates of Ukhhiya upazila in Cox's Bazar boycotted the polls bringing allegations of irregularities like vote rigging and capturing polling centres in the area.
Three vice chairman candidates – Mahbub Alam, AR Jihan Chowdhury and Mohammad Russel-- simultaneously boycotted the polls bringing the allegation in a press conference there this afternoon.
In Jhenidah, no voters were seen at Baroipara Government Primary School centre in Shoilakupa upazila and at Alaipur Government Primary School in Kaliganj upazila in over an hour.
Besides, the correspondent found one person who was seen stamping ballot papers at Monoharpur High School in Kaliganj upazila around 10:00am.
No voters came to cast vote at Chaprail Government Primary School centre in Kaliganj up to 11:00am, our Jhenidah correspondent reports from the spot.
Out of 1,300 voters at Arappur New Academy centre in Sadar upazila, only 18 have cast their votes while only six voters, out of 3,406, exercised their franchise at Neamotpur Government Primary School centre in three hours from 8:00am today.
Besides, at least 10 voters received injuries during a clash occurred at Mirzapur Government Primary School centre under Shailakupa upazila in Jhenidah, said Salauddin, officer-in-charge of local police station.
The clash erupted between the loyalists of AL nominated candidate Nayeb Ali Joardar and incumbent upazila chairman and rebel candidate Shikdar Mosharraf Hossain Sona.
In Magura, our local correspondent reports that the voting to 277 centres of four upazilas -- Sadar, Shalikha, Mohamadpur and Shreepur -- began this morning peacefully but low attendance of voters was seen during the visit of two voting centres this morning.
In Manikganj, a presiding officer was detained from a polling centre in Daulatpur upazila of Manikganj for his alleged involvement for casting vote in boat symbol during the election.
The law enforcers detained presiding officer Ruhul Amin, also assistant teacher Khord Chhatiyan Government Primary School, from Jionpur Khapara Government Primary School centre around 9:30am, our Manikganj correspondent reports quoting Assistant Retuning Officer Abdul Momin.
Later, two chairman candidates boycotted the voting over the allegations of vote rigging.
Besides, the authorities could not start voting at Motto Government Primary School in Sadar upazila of the district on time due to the technical problems of Electronic Voting Machine (EVM) at the centre.
Later, the voting started around 10:20am, said presiding officer Abu Bakar Siddique.  
In Jhalakati, the district copresident of The Daily Star was forcefully taken out of Indrapasha polling station at Rajapur around 7:20am when he went to the centre over the reports of vote rigging before beginning the election.