Quota demo to continue 10am to 7pm
Day after postponement, agitators announce fresh protest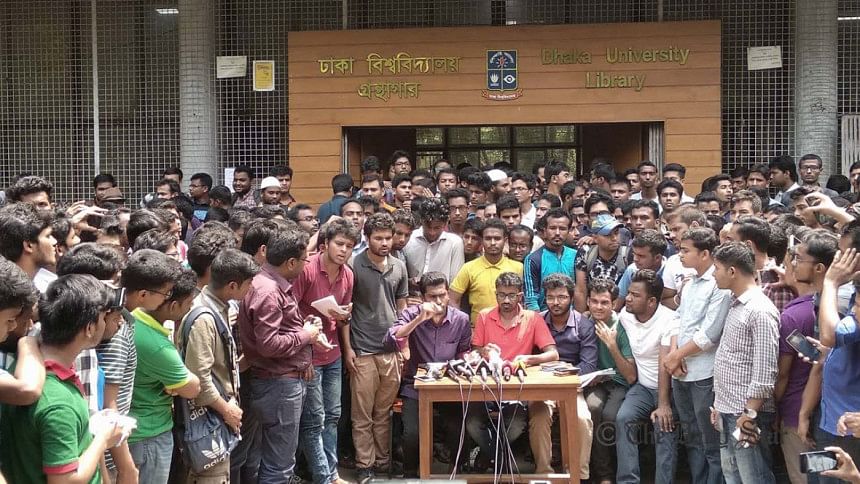 The students, who postponed their quota reform demonstration yesterday, today decided to wage movement afresh at all universities and colleges across the country until their demand is met.
The demonstration will be continued from 10:00am to 7:00pm everyday from tomorrow for the sake of safety of the female students, said Moshiur Rahman, a joint convener of Bangladesh General Students' Rights Protection Forum.
READ MORE: Quota agitation 'postponed', not quite
"We won't stay aside from the movement until Prime Minister Sheikh Hasina comes up with a specific announcement to put an end to the crisis," Nurul Haque, another joint convener of the forum, said this evening.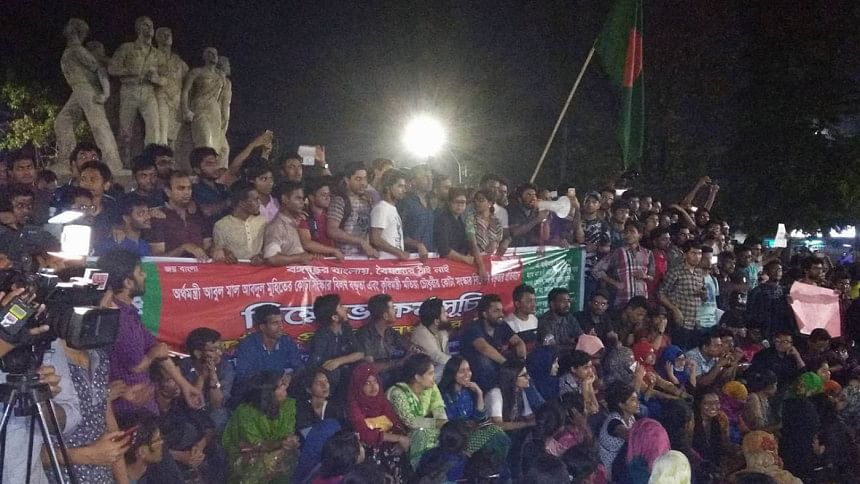 Addressing a press briefing at Dhaka University, Nurul announced that classes and examinations at all universities and colleges across the country will be postponed until the demand is met.
The forum came up with the fresh announcement hours after it urged all protesters to ignore the divergent faction, who were continuing the agitation despite yesterday's decision of postponement.
EDITORIAL: Violence mustn't overshadow rightful demands
In the briefing, Nurul Haque demanded unconditional release of those who were detained during the movement since Sunday.
The government will have to bear the treatment cost of those who are still undergoing treatment at hospitals after being injured in police action, he said.
He also criticised Agriculture Minister Matia Chowdhury as she in her speech in the parliament termed the protesters as son of Rajakar when a meeting between a delegation of the protesters and Awami League General Secretary Obaidul Quader was going on at the secretariat yesterday.
After the media briefing, the protestors again staged a demonstration in front of the Raju Sculpture on the Dhaka University campus.
They were chanting different types of slogans drawing attention of the government to meet their demands, our DU correspondent reports from the spot this evening.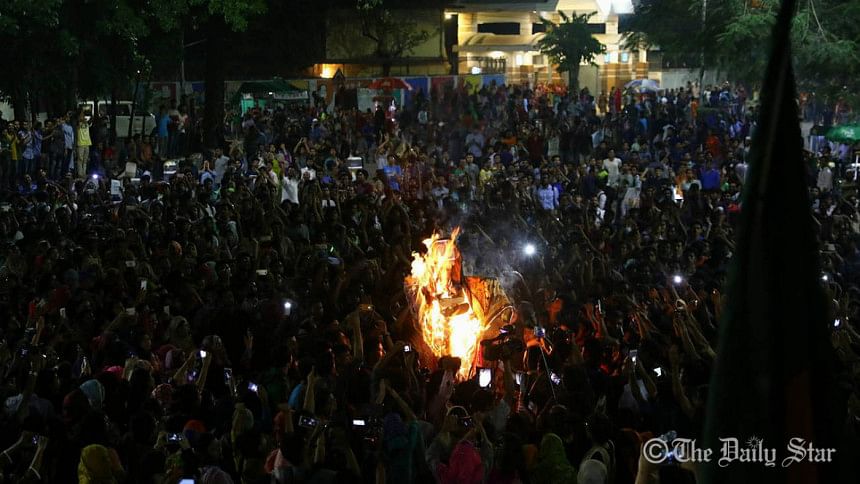 They also brought out a procession on the campus that marched different streets to press home their demands.
The students called off their protest for today at 8:15pm and went to their respective residences, our correspondent reports from spot.
The agitators said they will resume their demonstration at 10:00am tomorrow morning.
The overall situation was seen to be peaceful amid presence of law enforcers in the campus when the report was filed at 9:00pm.