Protesters call off demo upon PM's word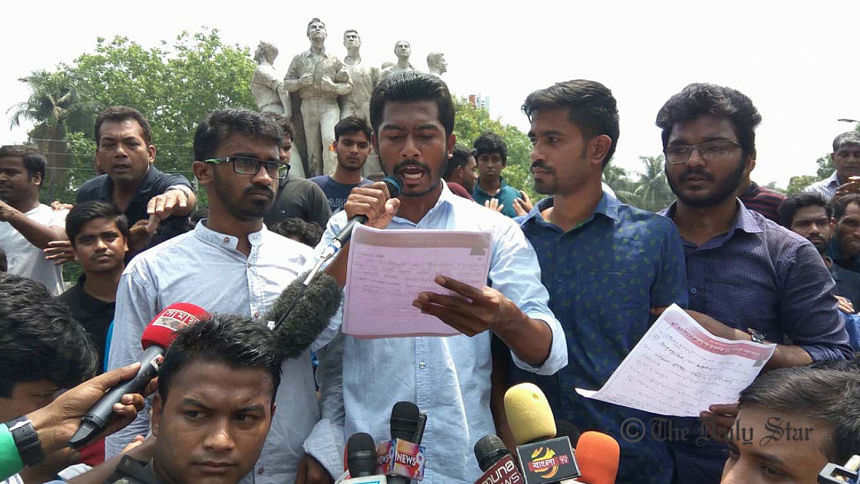 Protesters demonstrating for a fundamental reform in the quota system for civil service have called off their agitation after Prime Minister Sheikh Hasina said there would be no more quota.
Though it was not what they have been demanding for the past five days, protesters said today they have welcomed the decision and that they will hope it will be implemented soon.
Nurul Haque, joint convener of leading banner General Students' Rights Protection Forum, made the announcement at a press briefing at Raju Sculpture, adjacent to TSC, Dhaka University.
READ MORE: Long call falls on deaf ears
"We are suspending our movement until the government publishes a gazette in this regard," Hasan Al Mamun, convener of the platform, said in a short speech at the briefing this morning.
The banner also placed forward demands of withdrawal of the cases filed against demonstrators and a stop to the harassment of the general students at the halls of Dhaka University.
Hundreds of students, who were with the agitation for the past few days and were waiting to hear the next decision, brought out a joyous rally afterwards and paraded through the campus.
OPINION: Selective conscience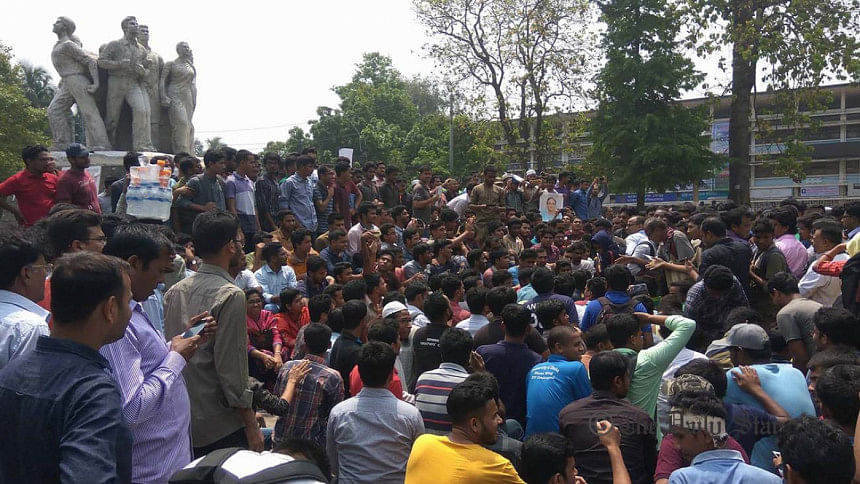 Prime Minister Sheikh Hasina's statement came last night, at the parliament, after four days of agitation at educational institutions countrywide – by Jahangirnagar University, Chittagong University, Rajshahi University and others – centrally led by Dhaka University.
The agitation heightened during the nightlong battle with police that began last Sunday. Since then, the movement broke into two factions upon assurance of the government. The major faction had called off all activities until May 7. However, the division lasted only for a day.
EDITORIAL: Violence mustn't overshadow rightful demands
A turning point in the movement was the incident of student harassment at Sufia Kamal Girls' Hall, which saw an overwhelming outburst of the students and injected fresh strength into the agitation.
The last nail was hammered in the coffin by the students of private universities, who came down to the streets yesterday, paralysing Dhaka city in a daylong show of sheer strength of numbers.