Matia draws flak for comment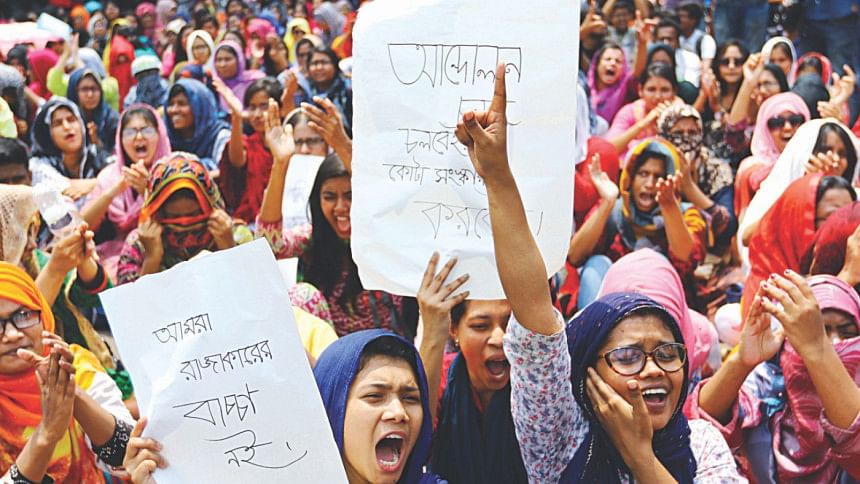 Participants of the quota reform movement yesterday reacted to Agricultural Minister Matia Chowdhury's remarks over the movement in parliament on Monday.
Her comments triggered a barrage of criticism and condemnation on social media.
Matia Chowdhury, also a presidium member of the ruling Awami League, in an unscheduled discussion at parliament on Monday, said "Will the children and successors of those who risked their lives to fight for independence not get an opportunity? Will the children of Razakars get the chance?
Will the quota for the freedom fighters be shrunk for them?"   
A faction of the quota reform movement of Dhaka University demanded an apology from the minister for her remarks.
"We are the children of Bangabandhu not Rajakars and we have no faith in the government that gives assurances and then labels us Rajakars," Syed Zobaer Uddin, a representative of the protesters, also a master's student of Dhaka University, said in front of the Raju Sculpture.
Demonstrators burned effigies of Matia Chowdhury in front of Raju Scuplture at around 8:00pm.
Besides, students of Jahangirnagar University (JU) threatened to declare Matia Chowdhury persona non-grata on the campus if she did not apologise for her comments.
She would have to apologise in three days, Khan Muntasir Arman, JU unit convener of quota reform committee, announced while addressing a rally in front of the central library.