Quota Reform Demand: Demos roll into day 4
Students unite in protests; boycott exams, classes; 4 cases filed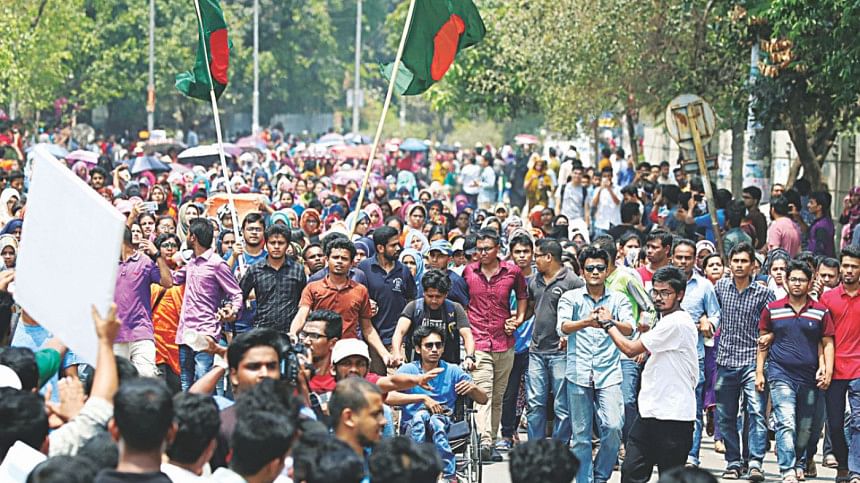 Demonstrations seeking reform in the civil service quota system erupted across the country yesterday, as thousands of private and public university students, along with those from other institutions, took to the streets to press home their demands.
They boycotted classes and exams, blocked nearby roads and highways and organised rallies for four consecutive days until Prime Minister Sheikh Hasina announced in parliament all sorts of quota privileges would be abolished in the public service yesterday.
At the central programme, several thousand students gathered at TSC in Dhaka University, while others from different institutions gathered on their campus or nearby areas. There were no major incidents.
However, there were incidents of sporadic violence during the four days.
Four cases were filed against a huge number of unidentified people on charges of vandalism and arson. The charges stemmed from the attack on the DU vice chancellor's residence. Other charges were related to obstruction of justice during the quota-reform demonstration in Dhaka.
All the cases were filed with Shahbagh Police Station on Tuesday night, Abul Hasan, officer-in-charge (OC) of the station, told The Daily Star yesterday.
Dhaka University (DU) Chief security officer Kamrul Ahsan filed one of the cases against some unknown persons for vandalism and arson attack on the residence of the university's Vice Chancellor Prof Mohammad Akhteruzzaman.
Humyan Kabir, inspector of the Special Branch (SB) of Police in Dhaka filed another case accusing 30 to 40 unidentified people for torching his motorcycle and snatching his walkie-talkie from Doyel Chattar at the DU campus during the demonstrations.
Besides, sub-inspectors Bhajan Kumar Bishwas and Robiul Islam filed two cases against a huge number of unknown people for obstructing policemen from performing their duties during the demonstration.
The movement for quota reform turned violent on Sunday after police fired tear gas shells and rubber bullets, used water cannons and charged truncheons to disperse the demonstrators who blocked the Shahbagh intersection for over five hours. The clashes went on throughout the night.
Around 100 people were injured during the clashes.
The demonstrations began on February 17, students under the banner of Bangladesh Shadharan Chhatra Odhikar Sangrakkhan Parishad launched the movement over their five-point demand, including reducing the quota privilege to 10 percent from 56.
On the following day, after a meeting between government officials and a delegation of the platform, a one-month pause in the movement was announced. But a group of protesters defied the announcement and vowed to press on with their agitation.
In a dramatic turn of events on Tuesday, two factions of demonstrators reunited and called for indefinite nationwide road blockade and strikes at universities and colleges.
The movement gained further momentum after the news that two students of Kabi Sufia Kamal Hall of Dhaka University were tortured by hall unit Chhatra League president Iffat Jahan Isha yesterday. The protesters began gathering in front of DU's Central Library from 9:30pm.
The DU authority immediately suspended Iffat from the university, DU Proctor Prof AKM Golam Rabbani said. BCL also expelled her from their organisation. The protesters in front of the hall left around 4:20am yesterday.
At a press briefing around 10:45am the next day, leaders of the platform vowed to continue their movement until the prime minister gave a specific timeframe to reduce the quotas.
Then, they brought out a procession, attended by several thousand agitators who marched through the streets of DU campus and its surrounding areas before rallying at the foot of Raju Sculpture near TSC.
The situation started to change around 1:00pm after BCL general secretary SM Jakir Hossain, on a Facebook post, said they (he and BCL president) met the prime minister and she said there would be no quota privileges in public service jobs.
Dhaka University Vice-Chancellor Prof Akhtaruzzaman and Dhaka University Teachers' Association (DUTA) expressed solidarity with the movement. Led by DUTA President Maksud Kamal, they spoke before the students around 1:40pm.
However, everyone was eagerly waiting to hear something from Prime Minister Sheikh Hasina.
Meanwhile, students from the public and private universities had started their agitations in the morning.
Several thousand students of different private universities took over the thoroughfares in Mirpur, Farmgate, Sukrabad, and Dhanmondi areas in the capital, leading to a breakdown of Dhaka's traffic system.
Several thousand Chittagong University students staged demonstrations in front of Soloshohor Railway Station and blocked the railway track of the university's shuttle train.
Classes and examinations were not held at CU as most of the students boycotted them, expressing solidarity with the movement.
CU Teachers Association extended its support to the movement and urged the government to take quick measures.
The Dhaka-Rajshahi highway remained blocked since morning as several hundred students of Rajshahi University of Engineering and Technology (RUET) demonstrated in front of the university's main gate.
Around 200 students of Varendra University brought out a procession on the same highway and joined RUET students.
Several thousand students of Rajshahi University staged demonstration before RU main gate and staged a sit-in blocking vehicular movement there.
Earlier at 10:00am, they brought out a procession from the Central Library premises of the university.
Some students of Rajshahi College joined the RU demo, as they failed to organise a demo at their campus due to intimidation by BCL men.
Students of North Bengal International University also joined them. Most of the classes and examinations were boycotted by the students.
Students of Jahangirnagar University took position on Dhaka-Aricha Highway in front of their main gate from 10:30am, halting traffic on the highway.
Barisal University students blocked Barisal-Patuakhali Highway for more than seven hours. Students of Government BM College and Barisal Textile Institute also held agitation programmes.
Students of Dhaka Engineering and Technology University in Gazipur blocked Dhaka-Joydebpur road at Shibbari More area for around an hour seeking quota system reform.
Student of Gono University in Savar blocked Dhaka-Aricha Highway for around two hours from 10:00am.
Meanwhile, students of Devendra College in Manikganj could not hold their demonstration after they were intercepted by the police.
Students of Bangladesh Agricultural University blocked Dhaka-Mymensingh rail route, which goes through their campus, for hours leaving several local and intercity trains stranded at different stations.