No flood victim to suffer from hunger: PM
15 lakh MT food grains to be imported, if necessary, she says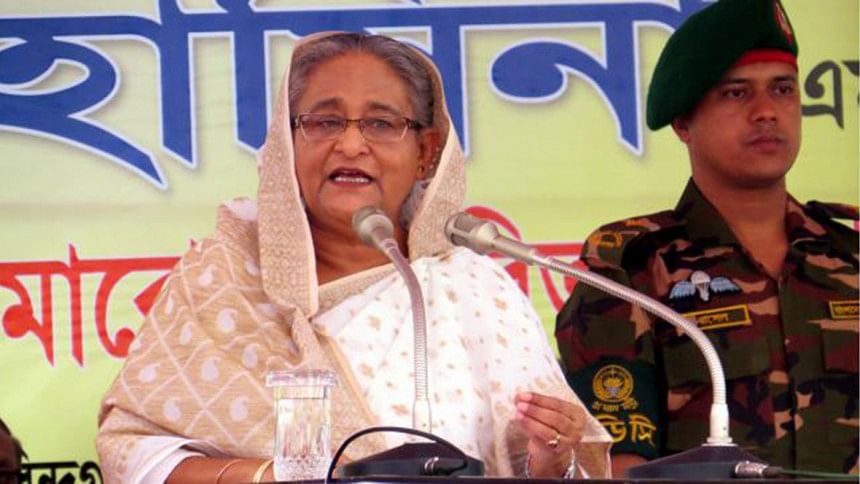 Prime Minister Sheikh Hasina today said no one will suffer from hunger due to the ongoing flood, renewing the promise that her government's support for the flood victims will continue until the next crops are harvested.

"Our aim is just one -- not a single person will suffer from hunger. We'll take steps to ensure food security for each person," she said while distributing relief materials and seedlings among flood victims on the premises of Gobindaganj upazila parishad.

Sheikh Hasina said the government was aware that there would be a flashflood this time. "So, we took steps to ensure food for all and avert any possible food scarcity...we've already started importing food grains."
Read More: Floods affect 16m people in South Asia
She said the government will import 15 lakh metric tonnes of food grains, if necessary, for ensuring the food security of people. "We'll distribute food free of cost among the extreme poor who are unable to buy it. Our plan is to ensure that until the next crops are harvested ...not a single person will suffer from hunger."

The Prime Minister said the government will distribute Tk 58,77,19,315 among the flood victims alongside continuing the agricultural loan so that they can go for cultivating their next crops. "We're beside you, and will remain so. We'll do whatever is needed to change your fate," she said.

Agriculture Minister Begum Matia Chowdhury, Disaster Management and Relief Minister Mofazzal Hossain Chowdhury Maya, Food Minister Advocate Qamrul Islam, AL Joint Secretary Jahangir Kabir Nanak, Organizing Secretary Khalid Mahmood Chowdhury and local MP Abul Kalam also spoke on the occasion.

Water Resources Minister Anisul Islam Mahmood, PM's Security Adviser Major General (retd) Tariq Ahmed Siddiq and Whip Mahboob Ara Gini were present.

According to available official statistics, some 2,260 houses were damaged completely, while 1,18,897 partially in Gainbandha by the ongoing flood. Crops on 27,167 hectors of land were damaged and 13 people died in the flood. 680 km of roads and 42.70 km of embankment were damaged.
The number of affected educational institutions by the flood is 350, while that that of religious institutions is 73.

Some 6,937 flood-affected people are now in 35 shelter centres. About 1,800 MT of rice and cash Tk 58 lakh and 4000 packets of dry food were allocated as of August 25. The total amount of relief goods allocated so far is Tk 8,11,74,423.

Thirty-eight medical teams are now working in the district.