Bamboo-made watchtower to check robbery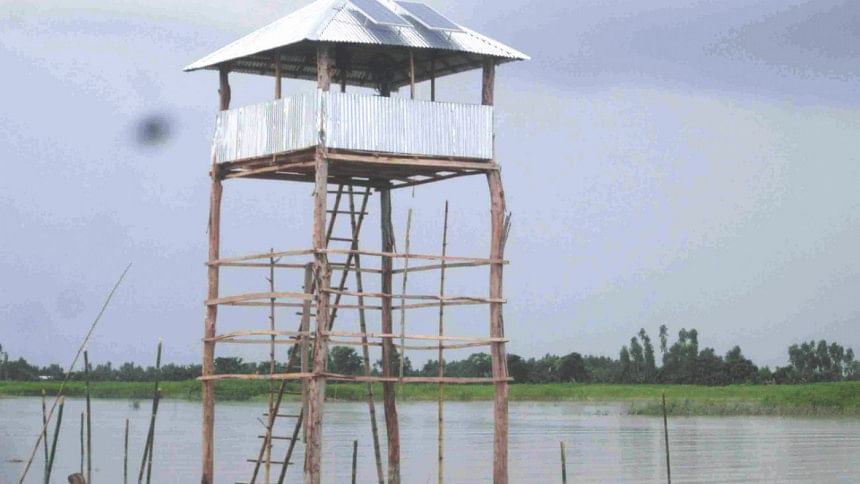 Locals have set up two bamboo-made watchtowers to tackle robbery in remote char areas on the Teesta river basin in Sundarganj upazila.
Robbery is a common incident in the char areas during the rainy season. Most of the char areas go under floodwater. Robbers become active at that time as they can easily go from one place to another by engine-run boats.
The flood-affected people are compelled to take shelter on higher ground or flood control embankments with their belongings, including cattle.
Robbers attack the flood victims and loot their valuables.
At least six robberies had happened in different places of Kapasia, Sreepur and Haripur unions before the watchtowers were set up.
 The criminals were committing the crime even in broad daylight, said locals of Kapasia union.
Considering the plight of the char people, Gaibandha-1 lawmaker Monjurul Islam Liton has financially helped the locals set up the watchtowers, each of which is 30-feet high, in the char areas of Kapasia and Haripur unions.
With their physical labour, locals have set up the towers. At least 10 people can stay on a tower at a time for observing movement of robbers' boats. They blow whistles to alert people if they see any such boat coming.
"We do our duties round the clock by rotation. At night, we run searchlights by using solar panels," said Mokbul Hossain, one of them who guards against robbery.
After setting up of the watchtowers, no robbery occurred here, said Somesh Ali of Haripur river ghat.
Locals said those towers somewhat relieved their anxiety over robbery.
Lawmaker Monjurul Islam gave the money from the Test Relief (TR) programme for setting up the two towers, said Nurunnabi Sarker, project implementation officer of Sundarganj upazila.
Construction of a permanent watchtower is costly. If a permanent watchtower is built, it will help reduce the incident of robbery in the char areas, said Mozharul Islam, chairman of Haripur union.