Deadliest day for travellers
52 killed in crashes in a single day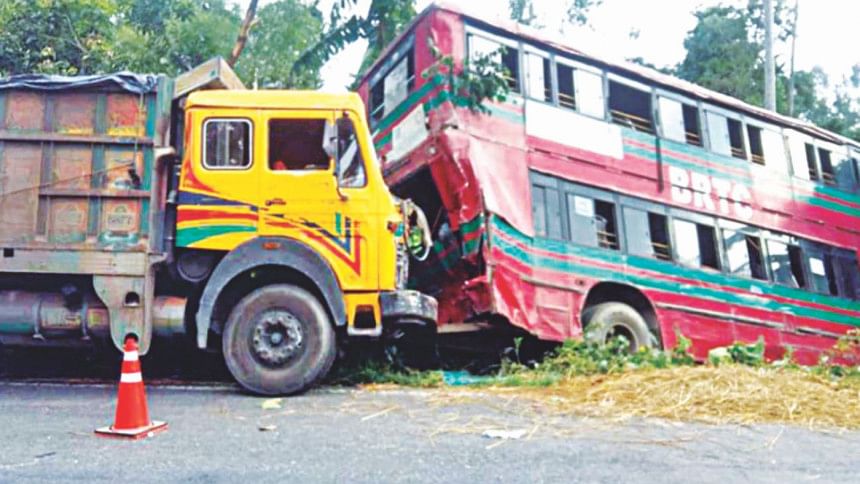 Fifty-two people were killed, including 18 in one crash in Gaibandha, on the country's roads yesterday. 
This is the highest number of casualties in a single day in recent times, according to Bangladesh Jatri Kalyan Samity.
More than 150 people were also injured, according to our correspondents and the Samity, a platform for passenger welfare.
The accidents happened on the last day of the weekend after the Eid holidays. Many of the victims were returning from their village homes to join work or school.
"Some 46 people were killed on a single day during the Eid rush in 2015. The death toll this year exceeded that, making it the highest in recent times," Mozammel Haque Chowdhury, secretary general of the Samity, told The Daily Star yesterday.
The Daily Star, however, could verify that 36 died on the roads yesterday.
Experts and road-safety campaigners held increasing number of vehicles, including non-motorised vehicles, on roads; reckless driving; unfit vehicles; and lack of control over highways responsible for the high number of road crashes during Eid rush.
A total of 274 people were killed and 848 wounded in 205 accidents in 13 days during and around the Eid holidays last year (June 19 to July 1, 2017), said Jatri Kalyan Samity.
Mozammel said they would publish their report on this Eid holidays this week.
GAIBANDHA CRASH
Yesterday's deadliest accident happened in Gaibandha where 18 people (19 according to the Samity) were killed and 28 others injured.
A bus heading for Panchagarh from Dhaka suddenly veered off the Dhaka-Rangpur highway near Gaibandha's Palashbari around 4:00am and hit a tree before coming to a rest in a ditch, said Mahmudul Alam, officer-in-charge of Palashbari Police Station, quoting passengers.
Nine people were killed on the spot while seven others died on the way to hospitals. Two more died of their wounds at Rangpur Medical College Hospital, he told our correspondent.
Nur Alam, an injured passenger from Thakurgaon, said, "… I heard the bang. I became unconscious. I regained consciousness at the [Palashbari] health complex."
" … the driver was driving so recklessly. He was sleepy too, which contributed to the incident," said passenger Abu Sayeed of Tangail.
Citing passengers, Akhteruzzaman, OC of Gobindaganj Highway Police Station said the driver had narrowly averted three possible accidents on the way.
The roof of the bus ripped off and the tree it had hit was uprooted, said Dulu Mia, a witness who reached the spot within minutes. He claimed that many passengers were alive but the rescue team reached the spot almost an hour later.
Gobindaganj fire station in-charge Abdul Hamid said they reached the spot around 5:00am. 
District administration would provide Tk 10,000 to each of the victim's family, Deputy Commissioner Gautam Chandra Pal of Gaibandha said.
In Rangpur, at least six people were killed and 13 more injured when a sand-laden truck rear ended a stationary double-decker early yesterday, reports our Dinajpur correspondent.
Abdullah Hel Baki, in-charge of Taraganj Highway Police Post in Rangpur, said the double-decker packed with garment workers was going to Dhaka from Dinajpur.
It blew a tyre at Thakurbari in Rangpur around 1:30am and the driver and his helper were installing the spare on the hard shoulder. Some passengers were also watching the spare being put on. The lorry then rear ended the bus.
Many of the bodies were beyond recognition, said police.
They said the bus had no tail or hazard lights on.
Police seized the truck but its driver fled the scene.
In another accident in Rangpur, a rickshaw-puller was killed when a truck rear ended him near Haq Bazar area in Kaunia, police said.
In Sirajganj, two people were killed and 20 others were injured when a Bogra-bound bus collided head on with a Dhaka-bound truck in Vuiagati area on Bogra-Nagarbari highway.
The driver and helper of the truck died on impact, said officer-in-charge Abdul Kader Jilani of Hatikumrul Highway Police Station.
In Natore, two people were killed and three others were injured when a sand-laden truck hit an easy-bike in Alaipur area of the town, Mohammad Mohiuddin, station officer of Natore fire station, said.
In Faridpur, two people were killed and 18 others were injured when a bus fell into a ditch on Dhaka-Barisal highway in Purbo Sodordi area of Bhanga, said Nirto Ronjan Mollik, sub-inspector of Bhanga Highway Police Station, quoting locals.
In Savar, a man was killed and 10 others were injured when a Dhaka-bound bus from Rangpur rear ended a truck on Dhaka-Aricha highway in Aminbazar area. The Jatri Kalyan Samity, however, claimed four people died in this incident.
In Gopalganj, two motorcyclists were killed when a bus hit their bike on Gopalganj-Tungipara road in Ghonapara area, police said.
The Samity, however, said five died in two accidents in Gopalganj yesterday.
In Laxmipur, two people were killed following a collision between a truck and an auto-rickshaw on Ramgati-Sonapur road in Sekherkillah area, police said.
Besides, the Samity around 1:00pm yesterday said three more died in Chittagong and one each in Tangail, Rajbari, Cox's Bazar, Narsingdi, Chuadanga, and Meherpur.