Making the most of a cold winter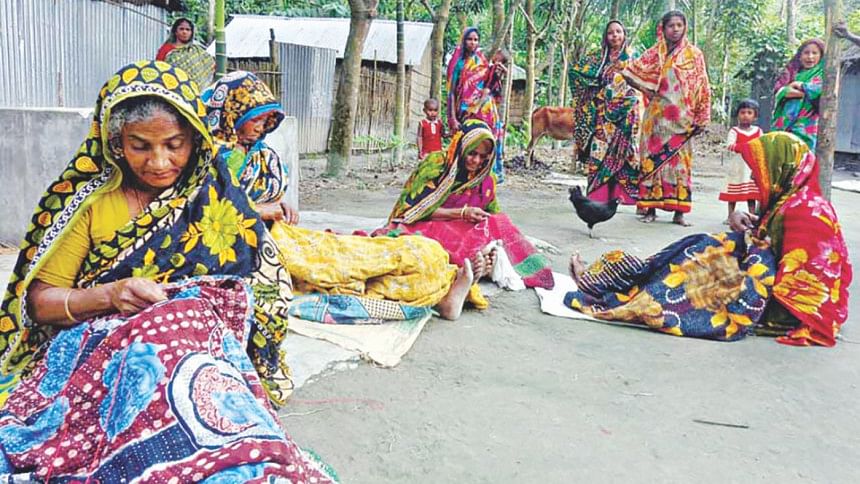 Northern winters can be cold. At 67-years-old it would be understandable if Marium Begum, from Panchgachi Santiram village in Gaibandha's Sundarganj upazila, said she really feels it: not only the cold of the winter air but from long years of struggle.
Twenty years ago her husband abandoned her, to raise a son and a daughter single-handedly. Nowadays her children are independent, thankfully, and Marium has turned the winter into an asset. She supports herself through sewing "kantha" blankets and bed covers from old cloth.
"I like to sew," she says. "I'm too old for physically demanding work but because of sewing I don't have to sit idle." Marium, who lives with her daughter, takes pride in being able to contribute to household costs.
In Panchgachi Santiram she is not alone. Several other women including neighbours Samiton, 55, and Anwara Begum, 53, who have been divorced or abandoned have also taken up the promise of the needle and thread. While most specialise in functional blankets like Marium's, some also create attractive embroidered "nakshi kantha" pieces.
There are orders enough, particularly in winter, to drive their work. For the most part, these older women spend their days happily busy.
Indeed there are younger village women also involved in the industry. Kantha production can equally appeal to the newlywed wife wishing to bring extra income into their household, in the quest for solvency.
An ordinary kantha will sell for up to Tk 600 while one of quality can fetch Tk 1,500. Each requires most often second-hand cloth pieces, as well as different coloured threads to enhance the finished product's appeal. Among the buyers are the more affluent families in the village, who often supply the cloth in advance.
"Sometimes we also get orders from handicraft dealers," says Anwara. "They usually ask for the best quality kanthas and pay more. Some of those products will even be exported and sold abroad."
She says that it's possible to produce three or four kanthas in a month, but that a quality piece could take between a fortnight and a month to finish.
"Many non-government organisations give us production orders," says neighbour Rozina Begum, 30, who also sews. "The remuneration they offer is good and they take delivery from the door. Sewing is really useful for women wanting additional income."
Another advantage of sewing is that it's a social activity. Commonly they can be found together, sitting on mats under a tree or in somebody's yard, chatting about family and community issues as they sew.