Talk to me if you have any confusion: Zafar Iqbal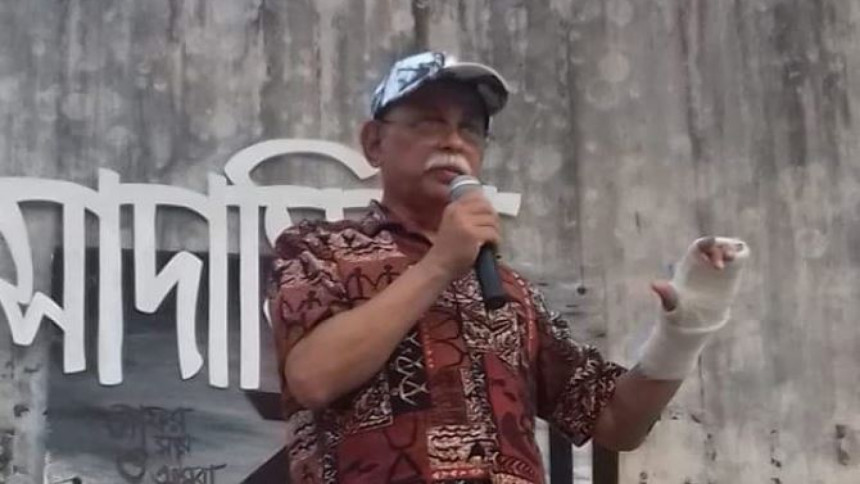 Prof Muhammed Zafar Iqbal today called upon the people, who have confusion about his ideology, to talk to him.
The renowned writer made the call while addressing his students at Mukta Mancha of Shahjalal University of Science and Technology (SUST) where he came under the attack on March 3.
Earlier in the day, he was released from Combined Military Hospital in Dhaka where he had been undergoing treatment since the attack.
"If you (radicals) have any confusion in your mind, come and talk to me leaving your weapons behind, I will talk to you," he said adding he wants to know their plight.
"Those who call me atheist, I am telling that I have read the holy Quran from its beginning to the end with profound concentration," he added.
He also cited a couple of verse from the holy book, "Whoever kills an innocent, it is as if he has killed all mankind." The Quran discourages such killings, he said citing another verse, "Whoever saves a person, it is as if he has saved all."
Prof Iqbal said he does not have any grudge or vengeance in his mind against the attacker. "I have no anger or vengeance in my mind against the youth," he said referring to the attacker, Foyzur Hasan.
"Rather I feel sympathy and pity for him," he also said.
'I am a simple man, I don't have any fear'
While leaving Dhaka CMH in the morning, Prof Iqbal said he is a simple man and does not have any fear, according to Bangla daily Prothom Alo.
He said he is not worried about security issues and not angry either, reports the daily.
Read More: Zafar Iqbal attacked
"He is doing well and was released from the hospital around 10:30am," Major General Munshi Md Mojibur Rahman, chief cardiac surgeon and consultant surgeon general of Bangladesh Armed Forces, told The Daily Star.
Later, he along with his wife Yesmeen Huq, also a professor at the university, reached Sylhet by an aircraft from Hazrat Shahjalal International Airport in Dhaka around 1:08pm.
Foyzur Rahman, aged around 25, was caught red-handed after he stabbed Prof Iqbal on March 3. Later, an air ambulance flew to the capital with him on the directives from Prime Minister Sheikh Hasina and was admitted to the Dkaha CMH.
Prof Iqbal, a faculty member of Computer Science and Engineering department at Shahjalal University of Science and Technology (SUST), is an educationalist loved by students of any age across the country.
A noted writer, he is also popular among kids especially for his science fiction novels. All his life he has been vocal against communal forces and championing secularism and the ideals of the Liberation War.