''I feel a responsibility to write for children'' … Muhammed Zafar Iqbal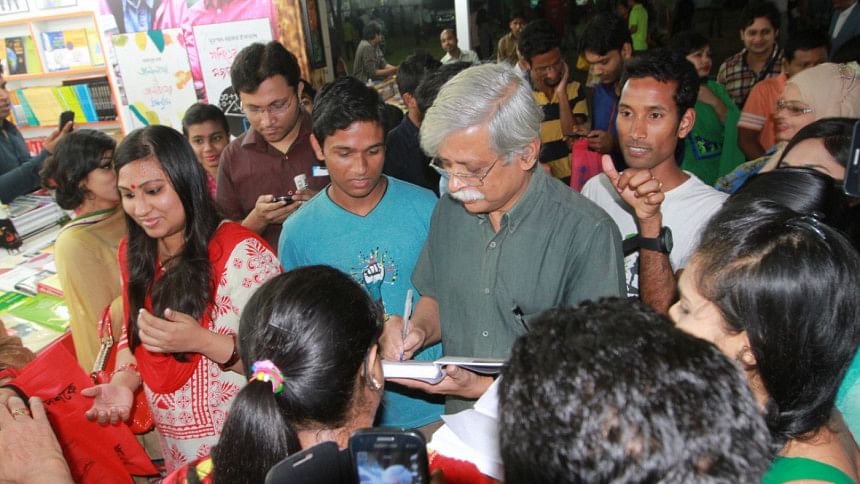 The ongoing Amar Ekushey Boi Mela is stepping into its third week. Every day, aside from the publishers and readers, writers are seen strolling through the fair grounds. On Wednesday evening, Professor Muhammed Zafar Iqbal was busy giving autographs to his readers and interacting with them. The Daily Star caught up with the writer for an interview while he was with his fans. Excerpts:
What does Ekush mean to you?
Zafar Iqbal: I was born in 1952. I didn't see it through my eyes but Ekush, to me, is the Probhat Feri that later turned into an expression of protest against the Pakistan Government during the pre-liberation period. I can recall the February 21 of 1971. On that day, I, along with other students of Dhaka University marched barefoot towards Shaheed Minar. Nowadays, people join Probhat Feri wearing shoes, but in the past everyone would walk barefoot.
How do you feel about this year's book fair?
Zafar Iqbal: I have a soft corner for the fair. However, this time I think it's lacking the participation of people from outside Dhaka. They are not being able to join in and that's why I think it is a little bit incomplete.
How do you revel in the incredible popularity you have among the youth?
Zafar Iqbal: Sometimes I cannot figure out why the readers, especially children, love me so much. They love me, but in return I cannot give them anything other than my books. And for this reason, I always try to cater to their needs. Also I feel an urge and responsibility to do something for the children. As a writer and as a human being, it is my commitment that I will never do anything that lets my readers down.
How many books of yours were launched at this fair?
Zafar Iqbal:  I wrote four books for this year's fair. A compilation of my columns also came out. I also wrote "Gram er Naam Kakondubi", a book depicting the torture that was inflicted on women during the Liberation War. It is like "Amar Bondhu Rashed", but is set in a village. Since it's a children's book, I had to be careful about a lot of things. Another book is a sci-fi named "Serina" and the other one is "Aro Tuntuni O Aro Chotachhu", which is a sequel. I never wrote a sequel before, but demands of readers made me write it.