8 killed, 9,000 houses damaged as storms lash four districts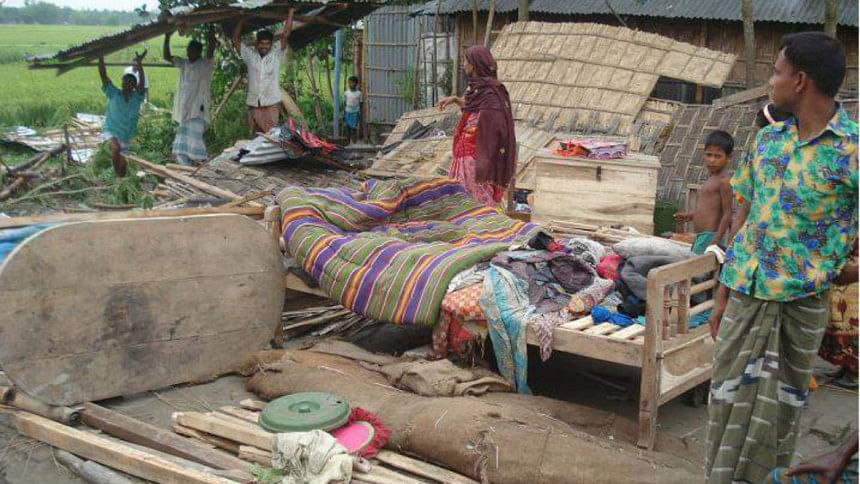 At least eight people were killed and over 9,000 houses damaged as storms lashed Dinajpur, Joypurhat, Rangpur and Nilphamari districts on Saturday night.
Our Dinajpur correspondent reported that a storm hit the district at around 8:55pm on Saturday, killing six people and injuring over 50 people, reports our correspondent. 
The deceased are Mitu Rani Roy, 22, wife of Mukul Chandra Roy of Khayerpukur village in Phulbari upazila, Sirajul Islam, 60, and his grandson Sabbir Ahmed, 8, of Hatishal village in Nawabganj upazila, Morzina, 34, of Sahapur, and Aleya Begum, 65, wife Sobed Ali of Sukhevpur village under Chirirbandar upazila of the district.
They died as walls of their houses collapsed during the storm, said Deputy Commissioner Ahmed Shamim Al Razi.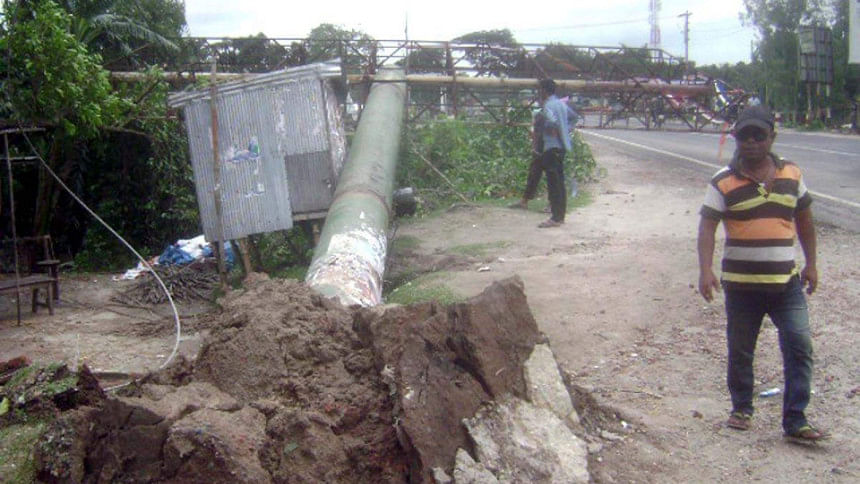 More than 8,000 houses were damaged and a number of roadside trees and electric poles uprooted in 13 upazilas of the district during the storm that lasted for about seven hours.
The injured were admitted to different upazila health complexes.
In Joypurhat, a hotel boy named Md Jahidul Islam was killed in wall collapse as a storm lashed Sadar upazila the same night. The storm also injured at least 20 people and damaged over 50 houses in the upazila.
According to our Rangpur correspondent, a storm swept through different areas of the district at round 9:30pm on Saturday, killing two people and injuring 20 others.
At least 300 houses were damaged and a good number of trees and electric poles uprooted in the affected areas.
The deceased are Md Ashraful Islam, 20, son of Ruhul Amin of Taluk-Upasu village, and Joygoon Nesa, 65, wife of late Safar Uddin of Monglakuti village in Pirgachha upazila.
Md Abdul Qader Jilani, officer-in-charge of Rangpur Kotwali Police Station, said four passengers of a battery-run auto rickshaw sustained injuries in Sathmatha-Mahigonj area of the city as a tree fell on the vehicle during the storm. 
One of the injured, Ashraful Islam, later died at Rangpur Medical Collage Hospital.
Officer-in-Charge (OC) Md Aminul Islam of Pirgachha Police Station said Joygoon Nesa was killed as her tin-roofed house collapsed during the storm.
Power supply in the storm-hit areas remained cut off as of writing of this story at around 5:00pm yesterday, said locals.
Away in Nilphamari, around 1500 houses were damaged and several thousand trees uprooted as a violent storm lashed 10 villages in Kishoreganj upazila of the district on Saturday night, reports our correspondent.
At least 20 people were injured and maize and Irri-boro paddy fields were damaged in the the affected villages.
The affected villages are Masterpara, Dorjipara, Khamatpara, Porchapara, Garagram, Baniapara, Akalibechapara, Putipara, Balapara and Magura.