50 JS bodies formed in 10 sittings: Speaker
She says it's a rare instance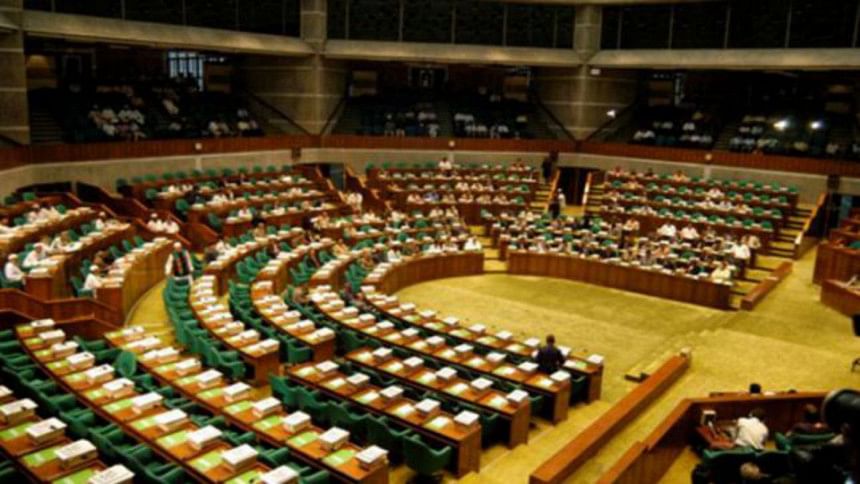 The parliament tonight completed formation of all the 50 parliamentary committees with only 10 sittings of the maiden session of the 11th Jatiya Sangsad.
The 11th parliament went its maiden session on January 30 and all the 50 parliamentary committees were formed unanimously within only 10 sittings after the formation process started on February 3, Speaker Dr Shirin Sharmin Chaudhury told parliament tonight.
"The formation of all parliamentary committees within only 10 sittings is a rare example and milestone," she said.
Dr Shirin thanked Leader of the House Sheikh Hasina for her patience and giving a lot of time in the committee-formation process.
"Sitting in the Parliament, she (PM Hasina) wrote down the names of the members of all committees taking a lot of time with patience," the Speaker said amid thumping on the desk by the treasury and opposition bench MPs.
Showing the lawmakers, the copy of the PM's handwriting, Dr Shirin said the handwritings will be preserved in the archive of the Parliament as a rare document.
Earlier on in the day, the Jatiya Sangsad formed seven parliamentary committees.
Chief Whip Noor-E-Alam Chowdhury placed separate proposals for constitution of the seven committees in the House. The MPs endorsed the proposals through their voice votes.
Among the committees formed today, Speaker Dr Shirin Sharmin Chaudhury is the chairman of the Business Advisory Committee, the Standing Committee of Privileges and the Committee on Petitions.
Among the other four committees, Dabirul Islam (Thakurgaon-2) is the chairman of the Parliamentary Standing Committee on CHT Affairs Ministry, while Meher Afroze is the head of Parliamentary Standing Committee on Women and Children Affairs Ministry.
Besides, ASM Feroz is the chairman of the Committee on Public Undertakings and Deputy Speaker Fazle Rabbi Miah is the head of the Library Committee.
The chairmen of all the seven committees are ruling party lawmakers.