Jhenidah raid: 2 'militants' killed in 'suicide blasts'
'Militant' called Tuhin detonates suicide vest at 5:30am

3 cops hurt

'Militants' explode 4 bombs

More 'militants' inside one-storey building

Bomb disposal unit on way from Dhaka 

4 including house owner, son, tenant held in Moheshpur upazila

Anti-militancy drive at single floor concrete building in Bazrapur

CTTC, local cops taking part in operation

Section 144 imposed

Locals asked to remain inside house

Ambulance, fire fighting unit at spot

6 grenades, pistol, bullets found in another den in Sadar upazila

3 including house owner, son, tenant held
Two suspected militants were killed in "suicide blasts" when law enforcers conducted an operation at a suspected militant hideout in Moheshpur upazila of Jhenidah this morning.

One of the militants detonated the suicide vest he was wearing after police entered the single story building at Bazrapur around 5:30am, our Jhenidah correspondent reports quoting Ahmed Kabir, officer-in-charge (OC) of Moheshpur Police Station.

READ more: Four killed in Chapainawabganj militant den

Identifying the deceased as Tuhin, the OC said police cordoned off the building based on information that the suspected militant went to the house last night.

The OC said he had a scuffle with Tuhin when he entered the house. Tuhin fell down on the ground and detonated the suicide vest he was wearing after the OC kicked him during the brawl, the correspondent said.

Meanwhile, the second militant died in another suicide blast inside the building, the OC added.

Three policemen -- SM Nazmul Haque, additional deputy commissioner of counter terrorism unit, and Sub-Inspectors Mohsin Ali and Mozibur Rahman -- were also injured during the raid, the OC said.

A total of four blasts were heard inside the house during the raid.


Earlier in the morning, police detained three people from a house in the area, the OC said.

They are: Alamgir Hossain, a tenant and suspected militant, Johurul Islam, 45, owner of the house, and his son Jashim Uddin, 25.

Based on their information, a team of counter terrorism unit of DMP along with local police conducted the operation, the OC said.

The local administration has imposed Section 144 in the area since morning to avoid any untoward incident.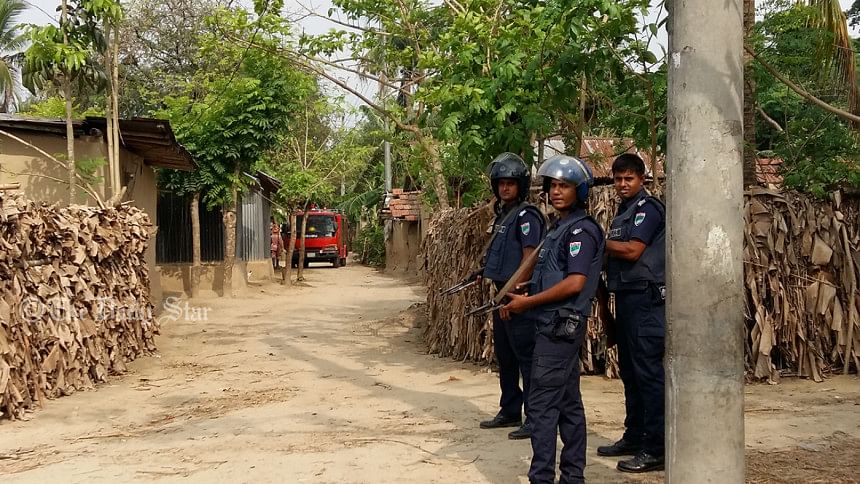 Using loud speakers, law enforcers were seen asking locals not to come out of their homes for the sake of their safety, the correspondent said.
Bomb disposal unit on way from Dhaka
A bomb disposal unit from Dhaka will visit the suspected militant hideout in Moheshpur today.

The unit is on its way to the spot, police said in the afternoon.
'They rarely opened windows'
Residents of the house rarely opened their windows, the correspondent reports quoting a woman of the neighbourhood.  

Even women of the house never came in front of others, a neighbour told the correspondent asking anonymity.

Mahbub Alom Talukder, deputy commissioner of the district, was also present at the spot.

An ambulance, fire fighting units and a number of vehicles of the law enforcers were seen in the area.
'3 held, 6 grenades found in Sadar upazila den'
In another drive at a tin-shed house in Sadar upazila, police arrested three people including a house owner, his son and a tenant, and seized six grenades, one 9mm pistol and eight bullets today.
Law enforcers were conducting the raid at the house at Lebutola village since early morning, Harendranath Sarkar, officer-in-charge (OC) of Sadar Police Station, said.