Four killed in militant den
They blow themselves up as SWAT wraps up Operation Eagle Hunt in C'nawabganj; woman, child brought alive out of den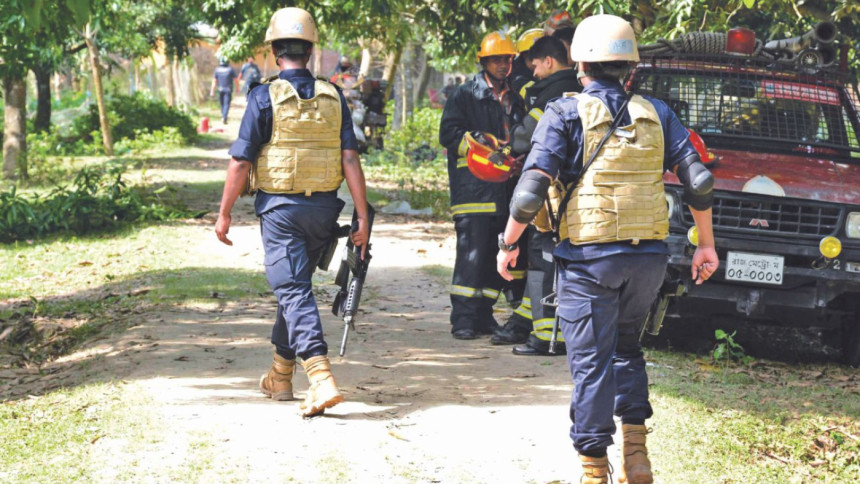 The 12-hour raid on a terror den in Chapainawabganj ended yesterday evening, as four militant suspects holed up there blew themselves up.
Rafiqul Islam alias Abu, an operative of militant outfit "Neo JMB", was among the dead. The terror outfit had given Abu, also known as Abul Kalam, the responsibility for providing shelter to its members, said police.
The other three, believed to be Abu's accomplices, were yet to be identified.
Nearly an hour before the drive codenamed "Eagle Hunt" ended around 6:30pm, members of SWAT (Special Weapons And Tactics) entered the den -- a one-storey house inside a mango orchard in Shibganj upazila's Shibnagar area.
They brought Abu's pregnant wife Sumaiya Begum and their six-year-old daughter Khadiza out of the house.
Sumaiya suffered a bullet wound in one leg while Khadiza was rescued unhurt. The two were whisked off to Chapainawabganj Sadar Hospital.
Police immediately couldn't say exactly when the four militant suspects were killed in suicide blasts. They found the bodies after entering the house around 5:30pm.
Wishing anonymity, a high official of Counter Terrorism and Transnational Crime (CTTC) unit of Dhaka Metropolitan Police, said, "We suspect that three of the militants were killed in suicide blasts on Wednesday and the other yesterday."
The bodies were found lying in one of the three rooms of the house, added the official.
Proloy Kumar Joarder, deputy commissioner of the CTTC unit, said they recovered Improvised Explosive Devices (IEDs), bombs and pistols from the den.
Police had so far defused four to five bombs, he told The Daily Star around 8:00pm.
On April 21, CTTC unit members busted a den in Jhenidah and recovered a huge cache of explosives and bomb-making materials. But they couldn't arrest anyone.
With the death of the four suspected militants, 23 people have been killed since March 8 mostly in suicide blasts during operations on five "Neo JMB" hideouts in Chittagong, Sylhet and Moulvibazar. Of the dead, 10 are women and children, and the rest are suspected militants.
Briefing reporters yesterday evening, M Khurshid Hossain, deputy inspector general of Rajshahi Range police, said the SWAT team completed the operation around 6:30pm.
"It [the raid] took some time as our main objective was to bring the child and the woman alive out of the den, and we have done that.
"Our big success is that we have completed the operation without any casualty on our forces," he said.
Around 4:30am on Wednesday, CTTC unit members along with local police cordoned off the house. As the suspected militants holed up there didn't respond to the law enforcers' call for surrender, a SWAT team was called in around 4:00pm.
The raid on the hideout began around three hours later but it was suspended around 8:30pm due to darkness, police said.
SWAT members resumed the operation around 9:00am yesterday. Gunshots were heard from the den throughout the day. There were two big explosions -- one at 11:06am and the other at 5:27pm.
According to investigators, Abu was an operative of mainstream JMB. He later joined "Neo JMB" and was tasked with providing shelter to members of the outfit.
He rented the house two months ago, and mostly mid-level leaders of "Neo JMB" used to stay there, they said.
Talking to this correspondent, Mohibul Islam Khan, deputy commissioner of the CTTC unit, said they suspect that the three dead militants, who were yet to be identified, came to Abu's house for shelter.
Locals said Abu's family threw him out of home as he started practising religion in a different way. For example, he used to celebrate Eids on the day Saudi Arabia observes them.  
Abu's mother Fulsana Begum said they would not receive his body as he had severed all ties with the family.
 She mentioned that her son studied at Trimohoni Alia Madrasa in Shibganj and had a circle of about 10 friends. He didn't have good relations with other people. 
Abu married Sumaiya about nine years ago, and they have two daughters, aged eight and six. He used to sell spices in local markets, added Fulsana. 
[Our Chapainawabganj correspondent contributed to this report]