Raid on Chapainawabganj Den: 3 dead 'militants' still unidentified
Three bodies found with splinters, one with bullets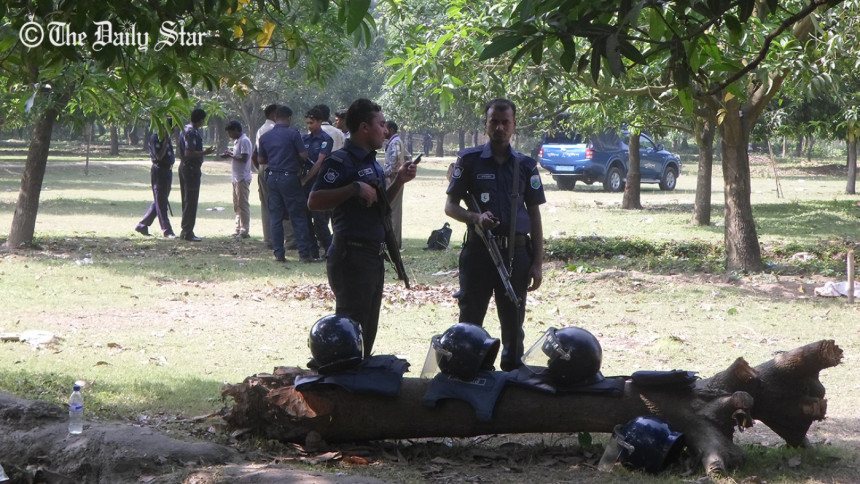 Three of the four slain militant suspects at a Chapainawabganj hideout were killed in suicide blasts and the other died from bullet wounds, according to one of the doctors who conducted autopsies on them.
"We have found splinters in three bodies and bullet injuries in the chest and belly of the other," Dr Shafiqul Islam, medical officer of Chapainawabganj Sadar Hospital, told The Daily Star yesterday.
Based on the condition of the bodies, the doctors reached the conclusion that the three blew themselves up, he said.
The three were killed at least 48 hours before they were brought to the hospital. Their bodies had already started rotting and their faces were not recognisable, he mentioned.
The other suspect, who was hit by bullets, might have died within 24 hours, the physician pointed out.
The bullet-hit man was identified as Rafiqul Islam alias Abu, an operative of terror outfit "Neo JMB". The identity of the other three was yet to be known, said police sources.
"We have collected DNA samples from the three unidentified bodies to ascertain their identity," Wares Ali, additional superintendent of police in Chapainawabganj, told this newspaper.
According to hospital sources, all the four were wearing jeans and black T-shirts.
The four "Neo JMB" militant suspects had holed up at a one-storey house at Shibnagar of Chapainawabganj's Shibganj upazila, said police.
Law enforcers cordoned off the house early Wednesday, and an operation codenamed "Eagle Hunt" was launched in the evening.
Members of SWAT (Special Weapons And Tactics) entered the hideout around 5:30pm on Thursday and found the four bodies lying in a room.
They also brought Abu's pregnant wife Sumaiya Begum and their six-year-old daughter Khadiza out of the house alive. Sumaiya suffered a bullet wound in one leg while Khadiza was rescued unhurt. 
Police recovered the four bodies yesterday afternoon and sent those to the Sadar hospital for autopsy.
Around 8:30pm yesterday, Abu's uncle Yeasin Ali received his nephew's body from police. While he was taking the body to his village home at Trimohoni, Shibganj police intercepted him midway and brought the body to the morgue.
"We brought the body back for security reasons. We will decide on it in line with the instructions from the high-ups," said Habibul Islam, officer-in-charge of Shibganj Police Station.
He said they were preparing a list of firearms, explosives and bomb-making materials recovered from the hideout. Once it is completed, a case would be filed over the incident.
Police yesterday sealed off the one-storey house.
Meanwhile, Sumaiya was shifted to Rajshahi Medical College Hospital for better treatment on Thursday night.
Seeking anonymity, one of the doctors, who are treating her, said an X-ray showed that there were shotgun pellets inside her injured leg.
But the doctors decided not to operate on her leg at this moment, as she needs to recover from fractures in the leg first.
At the hospital, Sumaiya told investigators that three persons came to their house on Tuesday evening, a day before law enforcers cordoned off the house.
Her husband Abu told her that they were his friends who came from Chittagong, and that they would stay in the house for a couple of days, according to an official of a law enforcement agency.
Sumaiya also said she had no idea that her husband was involved in militancy.
Law enforcers told this correspondent that they believe the three came to the area to collect firearms for "Neo JMB" members, as Shibganj is known as a common route for smuggling firearms.
They said they would interrogate her further once her condition improves.
[Our Rajshahi correspondent contributed to this report]