17 charged with shooting baby in womb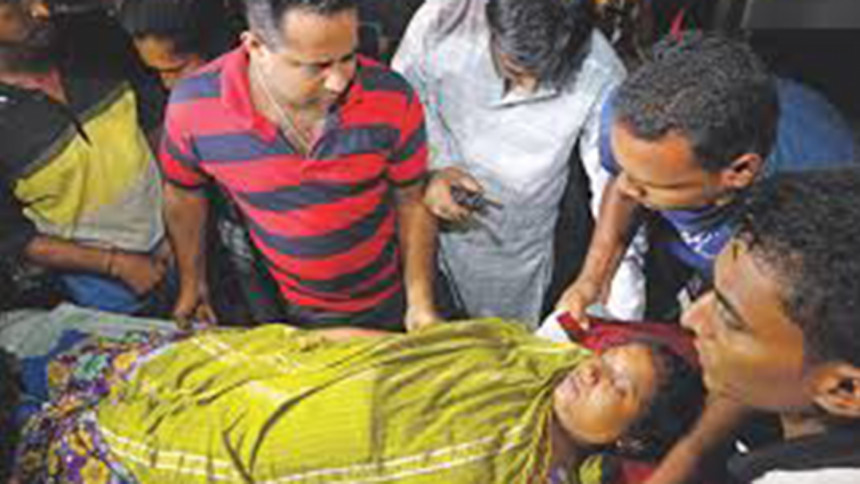 Over four months after shooting a pregnant mother in Magura during a Jubo League factional clash, police today pressed charges against 17 people for their alleged involvement in the incident that left one dead.
Investigation officer Imaul Haq, also the officer-in-charge of Detective Branch of police in Magura, submitted the charge sheet before the Senior Judicial Magistrate's Court around 3:00pm, reports our Jhenidah correspondent.
The accused are: Sen Suman, Ali Akbar, Suman Ali, Farid Ali, Sagar Hossain, Bappi Hossain, Mintu Mallik Tutul, Nazrul Sheikh, Sobhan Ali, Mithu Hossain, Solaiman Hossain, Ilyas Hossain, Sohel Hossain, Liton Hossain, Munna Hossain, Ainal Hossain and Tota Hossain.
Of them, Sen Sumon is the vice-president of Magura district Chhatra League. Most of the accused belong to the ruling party affiliated organisations.
On July 23, eight-month pregnant mother Nazma Khatun was shot in the abdomen during a clash between two rival factions of Jubo League, youth front of the ruling Awami League, at Doarpar of Magura town.
Apart from Nazma, the incident left one Momin Bhuiyan killed and another person injured.
Her baby sustained bullet injuries in her womb. The bullet pierced through her right shoulder and also injured her right eye.
The incident stirred huge outrage in the country.
Miraculously, the baby survived after a two-hour caesarean operation on her mother at Magura General Hospital on that day. The 35-year-old mother survived too.
The baby's relatives brought the newborn to Dhaka Medical College Hospital (DMCH) on July 26. A 10-member medical board was formed to ensure proper treatment of the baby.
The two returned to their Magura home on August 20 after undergoing treatment at DMCH for about a month.
A case was filed with Magura Sadar Police Station in connection with the July 23 clash, accusing 16 people, including Sen Suman, of involvement in the incident.