SSC question paper leaked as usual
10 examinees held with leaked question paper, answers in Natore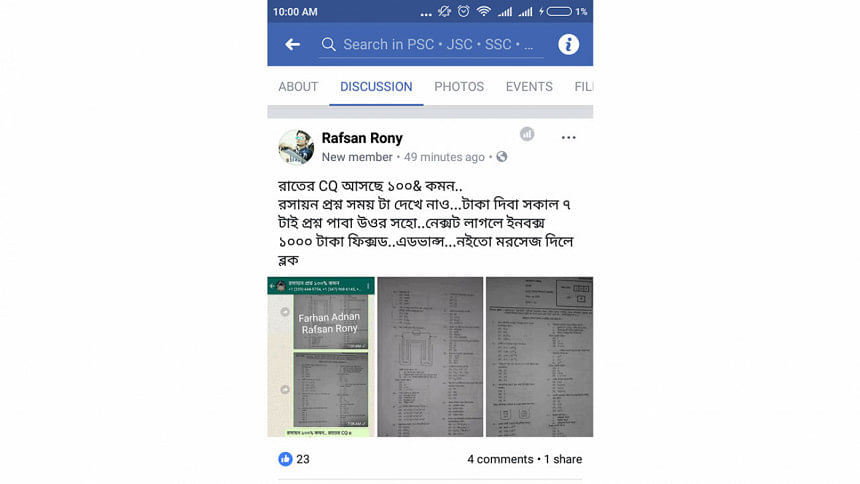 The question paper of SSC Chemistry examination was leaked today as the leak spree continues.
Meanwhile, 10 examinees of Secondary School Certificate (SSC) were detained with leaked question papers and answer scripts of Chemistry from an examination centre in Natore today.
Our reporters got the screen shots and images of MCQ question paper an hour before the examination that began at 10:00am.
Later, the leaked questions were found to be identical with the original question papers given to the examinees.
Meanwhile, a leaked copy of 'Kha' set broad question paper was also found in a Facebook group at 11:32am when the exam was still taking place.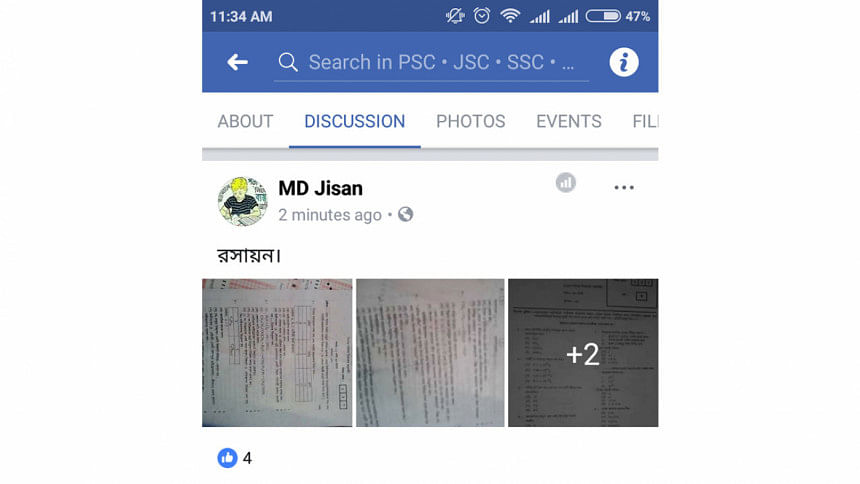 10 held in Natore
The law enforcers detained 10 SSC examinees with leaked question papers on their phones an examination centre in Lalpur upazila today.
On secret information, upazila nirbahi officer (UNO) along with a team of Rapid Action Battalion (Rab) and Additional District Magistrate Razzaqul Islam conducted the drive at Chandpur High School exam centre around 9:20am and arrested the students, our Natore correspondent reports quoting Nazrul Islam, the UNO of Lalpur upazila.
The detainees were taken to the upazila headquarters for further interrogation, the UNO said.
"Hopefully, after further investigations we will be able to find out the main culprits behind the question paper leak," he added.
This year's SSC examination has seen an ongoing spate of question leak despite strict measures of the government.
On February 12, the government formulated a strict guideline of banning mobile phones around the vicinity of exam centres. The order was to arrest anyone found with mobile in the area.
But nothing seems to work.
The question paper leak drawn fierce criticisms and prompted a Jatiya Party lawmaker to demand in parliament the immediate resignation of Education Minister Nurul Islam Nahid.