Shutting Down Mobile Internet: Govt backtracks on decision
Now govt orders arrest of anyone using mobile within 200 metres of exam centre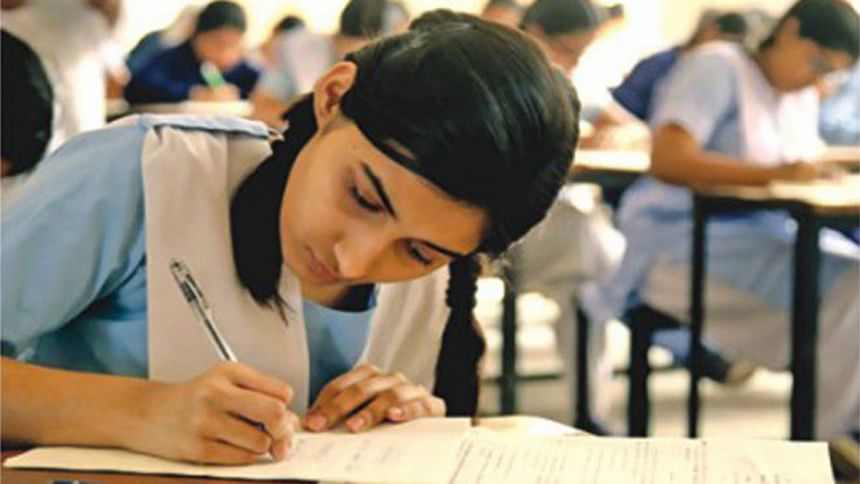 It appears the leakers of SSC exam questions have caught the government off guard and whatever it is doing to plug the leaks, is looking half baked.
On Sunday, the government decided to virtually block all internet access for two and a half hours ahead of every SSC exam. But it had to backtrack yesterday amid public outrage.
Bangladesh Telecommunication Regulatory Commission sent an e-mail to all international internet gateway operators at 8:10am yesterday, asking them to ensure uninterrupted internet service.
But the education ministry banned mobile phones around the vicinity of SSC exam centres. It sent a directive to authorities concerned on Sunday, ordering arrest of anyone found with a mobile phone within 200 metres of the exam centres.
It has also decided to change the way future exams would be held. Kazi Keramat Ali, state minister for technical and madrasa education, yesterday told parliament that multiple choice questions (MCQ) would be dropped from public exams in phases to prevent question paper leaks.
He claimed that a vested quarter was out to embarrass the government.
Opposition Jatiya Party MP Nurul Islam Milon told parliament that the SSC question paper leak had gone beyond the government's control.
"SSC exam question paper leaks have become the norm. I think honest, bold and active people are not in the offices concerned to prevent the leaks," he said, after Keramat Ali's speech.
Instead of trying to find out how the questions were leaked, the ministry had formed a probe committee on February 4 to investigate if the questions were leaked at all.
The committee is to report on February 18, towards the end of the exams.
The ministry earlier this month also announced a Tk 5 lakh reward for information leading to the arrest of the leakers, but that yielded nothing.
Before the beginning of the exams, the ministry ordered the closure of all coaching centres until the end of the exams this month, but a number of such centres were reportedly running.
Similarly, the ministry ordered that all examinees must be inside the exam halls half an hour before the tests. But there were many exceptions, which the education ministry admitted.
Amid the failures, the leakers have become more daring. They continued to taunt the government and vowed to leak the question papers of upcoming exams.
"Dear Friends, no need to be tensed. You will get questions on time. So it is better not to buy question from anyone. Don't trust me now … Trust me when you get the questions," a Facebook account under the name Md Sagor Rayhan wrote on the page "SSC QUESTION Out Team—2018".
Another account under the name Prince Arnob wrote: "By now, the questions of Physics, Finance and History have reached us. Give us a message. Beware of fraud and fake questions.
"We are giving question papers for four years. Who can give you 100% common? Inshallah, we will give you the written part at night, and MCQ in the morning."
Such posts were doing the rounds on some Facebook groups and pages, like before every SSC exam of this year.
Another account, Mama, an admin of a group "PSC JSC SSC HSC Degree Honours Masters Admission Test BCS job Question Out" wrote: "No need to give money, just give me a "Thanks" when you get the question papers.
"I have no wish to do business. I will give you all creative questions part for free."
DECISION REVERSED
On Sunday morning, the BTRC directed all carriers to block internet access for 30 minutes from 9:30am. But the block attempt was not successful.
In the evening, it directed carriers and ISPs to virtually block internet access for two and a half hours ahead of every SSC exam.
"The shutdown of internet or speed limitation will be halted until further notice. But it may be resumed anytime," BTRC Chairman Shahjahan Mahmood told The Daily Star.
"It's not our decision [to shutdown internet or slash its speed]. We follow government's decision," he said.
A top official, requesting not to be named, said the BTRC did not want to block the internet or reduce speed as it is linked to hundreds of online businesses and lots of digital services.
PHONES BANNED
The education ministry's order said, "If anyone is found with a mobile phone within around 200 metres of an exam centre or inside the centre, legal steps will have to be taken against the person following arrest."
The order that was sent out to the chiefs of all district administrations and education boards also said the students, who will fail to take their seats 30 minutes ahead of the test, will not be allowed to take the tests under any circumstances.
It further said despite the instruction, it has been found that students in some centres were entering after the deadline and many people carried smartphones near the centres.
ARRESTS
Rab-7 in a drive arrested two people, including an SSC examinee, at Raozan upazila in Chittagong Sunday night, reports our Chittagong office.
The arrestees are: SSC examinee Md Imran, 18, and Md Nurul Afsar Sabuj, 20.
"Both of them are active members of a question-leaking syndicate and they had spread almost all the leaked questions of the ongoing SSC examination through social media," Lt Commander Ashequr Rahman, deputy commander of Rab-7, claimed.