It's now free in the mornings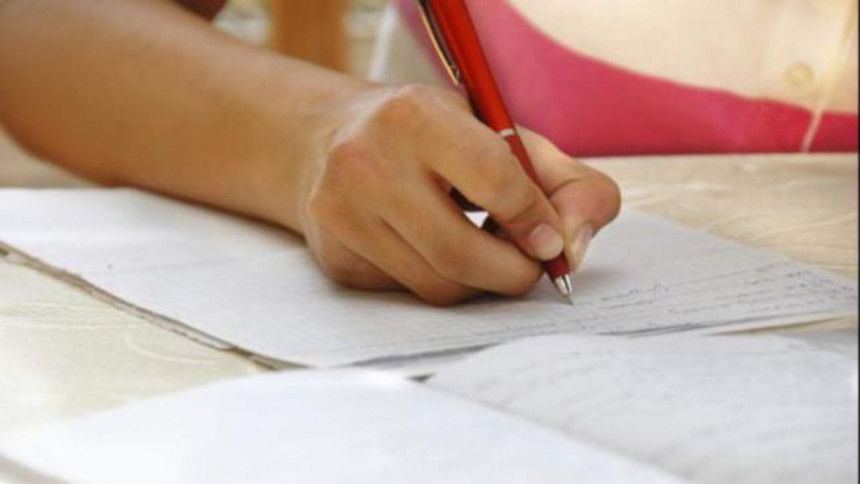 It appears money is not a big deal for the people who leak question papers of public exams.
Even though they sell the question papers the day before the exam, they give it away for free in secret messenger groups on Facebook hours before the test.
Like in the case of the first three tests, the leaked questions of English second paper circulated in social media and messenger groups yesterday.
Pictures of the questions of "Kha" set were found on several Facebook pages about 45 minutes before the exam began at 10:00am. However, one of the screenshots containing the questions of Kha set had been circulating in a secret WhatsApp group since 4:11am.
Some of the leakers were seen bragging on Facebook when the test was still going on. They claimed that they have again been successful in leaking the questions and promised questions of future SSC tests.
"Those who got it [question], how are you feeling? Full common. Stay with us! Now it's time for Islamic Studies [to be held today]," read one of the posts of a Facebook group named "PSC JSC SSC HSC Degree Honours Masters Admission Test BCS Job Question Out" that posted at 3:16pm yesterday.
After yesterday's exam, this correspondent compared the questions of the test with the screenshots of the questions that were obtained for free from a messenger group at 9:14am. They were identical.
Some of the leakers ask potential buyers for money while others offer them for free. Those who asked for money usually provide mobile banking account numbers.
"Brothers and sisters, after a hectic effort I have been able to post board copy at 9:16am. Anyway, my family [financial] condition is not good as there is a financial crisis ... [I] did the job taking risk just for money. Pay if you wish to and if don't want to pay ... " said a post in Facebook group "SSC English 2018".
A good number of people from different parts of the country allegedly communicated with the leakers and got the questions, The Daily Star learnt by talking to some of them on Facebook.
Questions of all four SSC tests -- two papers of Bangla and English -- held so far have been leaked, proving futile all efforts of the education ministry to plug the leaks.
Following media reports on the leaks, Education Minister Nurul Islam Nahid declared a Tk 5 lakh reward for helping catch those involved in question-paper leaks. His ministry formed a committee to decide on the next course of action.
But the leaks continued.
The education minister met Prime Minister Sheikh Hasina on Tuesday at the Gono Bhaban and offered to step down. But the premier asked him to tackle the situation with stricter measures, said ministry sources.
Meanwhile, a private university student and madrasa teacher were held with leaked question papers in Madaripur and Bogra before and during yesterday's English second paper exams.
Both of them had images of the question paper in their mobile phones and those matched with the original questions.
Private university student Zubaidul Islam, 24, of Sabujbagh in Amtoli of Barguna, was detained at Mostofapur Bus Stand in Madaripur around 9:30am, about 30 minutes prior to the exam beginning.
"The copy of the question paper found in his mobile phone is similar to the original question. A laptop was also seized," said Syed Faruk Ahammed, additional deputy commissioner (revenue) in Madaripur.
He said Zubaidul was boarding a bus heading for Kuakata and they got the tip from a passenger.
Zubaidul claimed before reporters that he had posted "suggestions" in Facebook group "Secret SSC 2K18" in exchange for money and that he was not involved in any question leaks.
The passenger, who had tipped off the Kalkini UNO and the DC concerned, said Zubaidul sat beside him and sent the questions to several people.
A mobile court held Omar Faruk, 50, a physical instructor of Durgacha Fazil Madrasa in Sariakandi upazila, during a raid near Sariakandi Government Boy's High School exam centre around 11:30am yesterday.
The arrestee had images of two sets (Ka and Kha) of English second paper questions in his phone.
Tipped off, the court, led by assistant commissioner (land) Abdul Kader and sub-inspector Subrata Kumar Ghosh of Sariakandi Police Station, enquired Faruk and arrested him.
Our Faridpur and Bogra correspondents also contributed to this report.