4 held in N'ganj, Ctg, Bogra over SSC question leak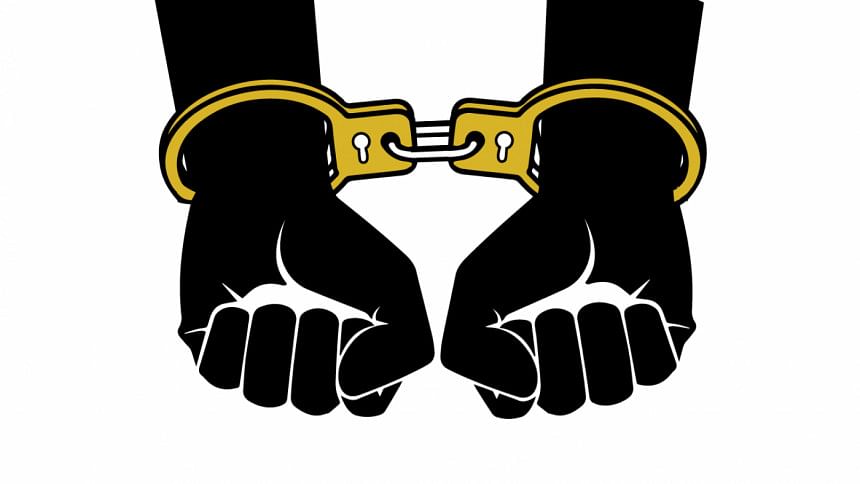 Law enforcers today detained four men claiming them to be involved in "syndicates of question paper leak-sters" from Narayanganj, Chittagong and Bogra.
In Narayanganj, Faruk Mia, 16, and Yasin Bhuiyan, 19, were held from Araihazar, our correspondent reports quoting Additional Superintendent of Police (Detective Branch) in Narayanganj Monirul Islam.
Leaked question papers of ongoing Secondary School Certificate (SSC) examinations, mobile several SIM cards and two computers were seized from them.
Our Chittagong staff correspondent reports, Rapid Action Battalion (Rab) detained Abil, 16, a SSC candidate in Bayezid area of the city, said senior Assistant Superintendent of Police and Assistant Director of Rab-7 Mimtanur Rahman.
In Bogra, Rab detained college student Rabiul Alam, 19, from town in the morning, our district correspondent reports quoting a Rab official.
This year's SSC examination has seen an ongoing spate of question leak despite strict measures of the government.
Earlier on February 4, Education Minister Nurul Islam Nahid declared Tk 5 lakh bounty for helping to catch those involved in question papers leak.
On February 12, the government banned usage of mobile phone within the 200 metres of any examination centre as part of preventing frequent leakage of question paper in the SSC exam. The order was to arrest anyone found with mobile in the area.
But nothing seems to work.
Read More: Question Leak: Unstoppable?  
The question paper leak has drawn fierce criticisms and prompted a Jatiya Party lawmaker to demand in parliament the immediate resignation of Nahid.
The High Court on Thursday formed two committees -- one judicial and another administrative -- to find out those involved in the leak of question papers of public exams and make recommendations for preventing the leak.