'Extortionists' gun down 2 in Narsingdi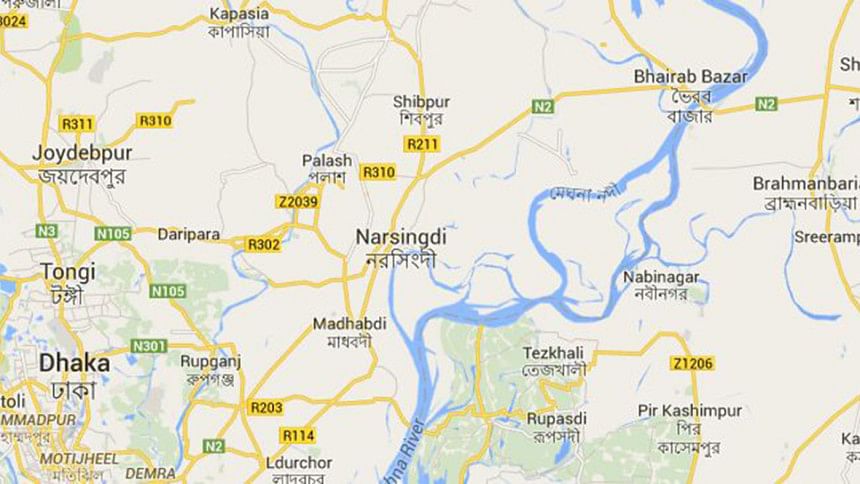 Two people were shot dead allegedly by extortionists in Bhagdi area of Narsingdi this evening.
Families of the victims -- Khokon Khandaker, 32, and Arif Khandaker, 35, -- told The Daily Star that they were killed for protesting extortion.
Khokon and Arif, residents of Bhagdi area, were friends.
Hearing gunshots, locals ran to the spot and rushed the victims to Narsingdi General Hospital where doctors pronounced them dead.
The victims were shot on their stomachs and lost a lot of blood, Shamsur Rahman, an emergency unit doctor of the hospital said.
Khokon's elder brother Selim alleged that his brother was killed for protesting extortion.
Police were investigating the incident, said Golam Mustafa, officer-in-charge of Narsingdi Police Station.
Khokon's expatriate relative Rafique Miah bought a piece of land in Bhagdi Balur Math area around a year ago, their families said.
Several locals demanded money from Rafique after he started constructing his house on the land recently. Rafique told about this incident to his relative Khokon.
This evening, a group of people went to the construction site and asked for money from Rafique. Then he called Khokon and asked him to come over, according to the family members.
Taking his friend Arif along, Khokon went to the spot and engaged in an altercation with the alleged extortionists, they said.
At one point, the extortionists shot both of them and fled the scene.