Kamal pledges tough actions against extortion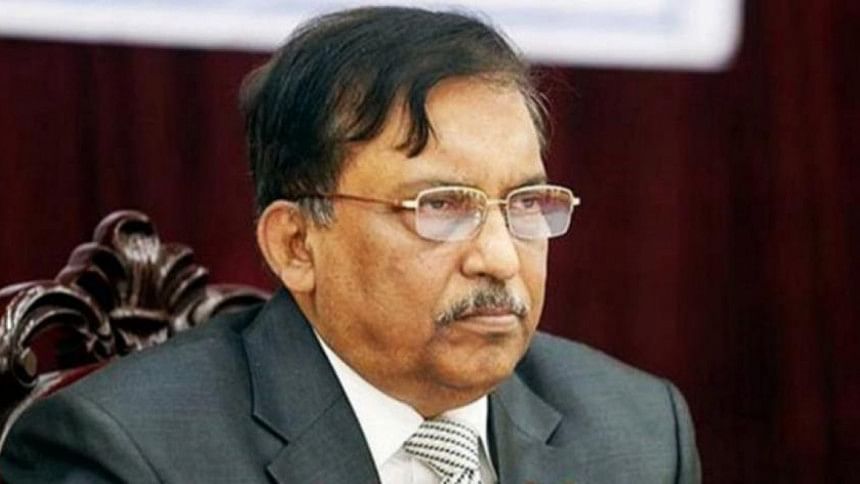 Home Minister Asaduzzaman Khan Kamal today said the government will deal with an iron hand, if anyone tries to extort the businessmen ahead of the holy month of Ramadan.
"The government wants the businessmen to do business unhindered. We have taken stringent measures to stop extortion," he said and urged the business people to inform, if anyone tries to extort them.
The minister was speaking as the chief guest at an exchange of opinion meeting at Dhaka Chamber of Commerce and Industry (DCCI) auditorium in Dhaka on controlling commodity prices during the fasting month of Ramadan.
The DCCI organised the meeting with its President Hossain Khaled in the chair.
Dhaka Metropolitan Police (DMP) Commissioner M Asaduzzaman Mian, DCCI Senior Vice-President Humayun Rashid, Federation of Bangladesh Chamber of Commerce and Industry (FBCCI) Director Abu Motaleb, Moulabibazar Edible Oil Traders Association President Hazi M Golam Mawla and Dhaka Additional Deputy Commissioner (ADC) Majibur Rahman addressed the meeting, among others.
Chairman of Criminology Department at Dhaka University Prof Dr M Ziaur Rahman presented a keynote paper.
Referring to different steps taken by the government to stop extortion, the home minister said, "Extortion has reduced to a great extent as tough measures have been taken. But, I cannot claim that it has come down to the zero level."
Members of police, Border Guard Bangladesh and other law enforcement agencies are ready to extend cooperation to businessmen on the occasion of Ramada, he added.
He sought cooperation of the businessmen to keep the commodity prices stable throughout the month of Ramadan.
The home minister advised the businesspeople to install cameras in their respective areas to prevent crimes, including extortion.
He said all markets in the capital and transportation of goods across the country would remain under intelligence surveillance.
In the meeting, the businessmen assured that they will not hoard commodities illegally and increase prices artificially in the month of Ramadan.
They demanded stopping all sorts of extortion in the markets and during transportation of goods.
Prof Ziaur Rahman recommended strengthening state-run Trading Corporation of Bangladesh (TCB) to resist illegal syndicates of businessmen.