Coronavirus fears: DU students demand suspension of academic activities
RU students form human chain with the same call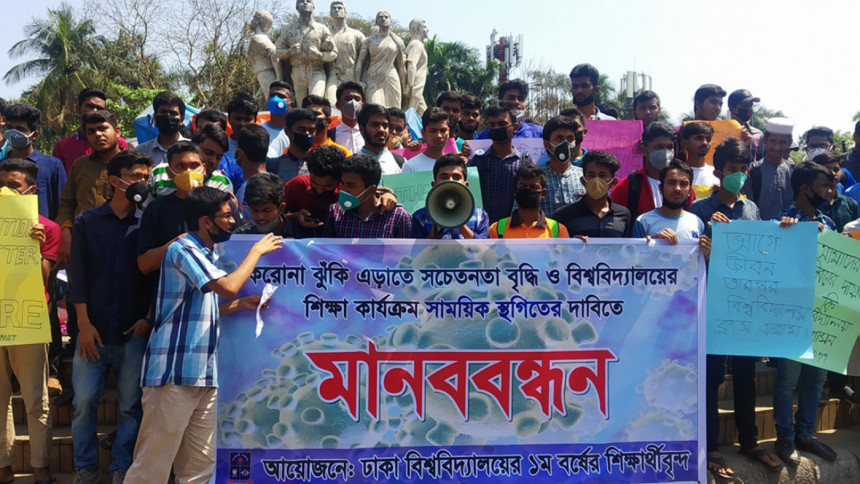 Students of Dhaka University and Rajshahi University are demanding suspension of academic activities, fearing potential coronavirus (COVID-19) spread.
First year students, mostly the ones who live in residential halls of Dhaka University, today gathered in front of the Raju Memorial Sculpture demanding suspension of all academic activities.
They also said medical camps should be immediately established on the campus to test people for coronavirus. And if anyone is found infected, the university authorities must ensure proper treatment, they demanded.
The students submitted a memorandum to the vice chancellor in this regard.
Students of Rajshahi University too formed a human chain with the same demand.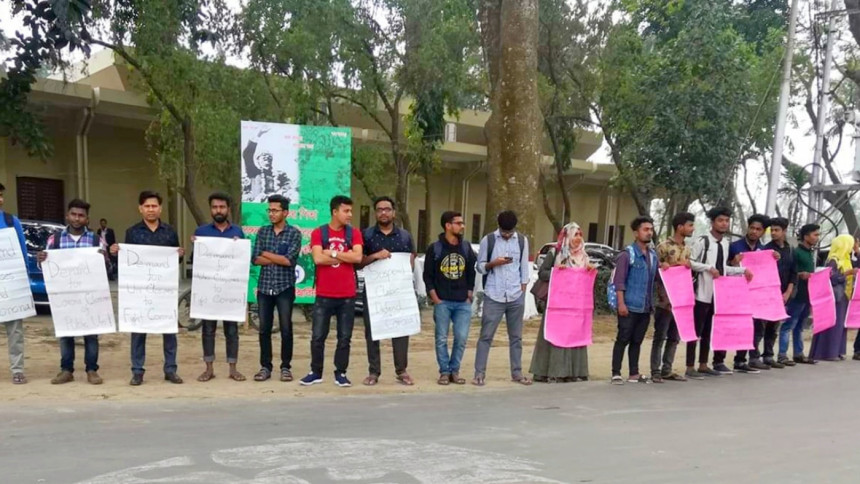 Around 11:00am, a group of students gathered in front of the Senate Bhaban to press home their demands.
Students of both universities have raised concerns that coronavirus will spread easily in the classrooms and residential halls as students are usually in close proximity there.
They have also said many students have to use public transport to commute to the university, which can lead to further spread of the virus, if anyone were to be infected but not yet diagnosed.
Ducsu's five-point demand
Meanwhile, Dhaka University Central Students' Union (Ducsu) today put forward a five-point demand to the university authority including immediately announcing closure of university temporarily or declaring early summer vacations to ensure safety of the students from coronavirus infection.
Ducsu, in a press statement signed by Saddam Hossain, assistant general secretary of the student body, urged the university administration to impose a ban on holding all kinds of political, social, cultural, sports and other events on the campus.
Other demands include, ensuring adequate supply of hand sanitisers at all residential halls; setting up an emergency unit at the university medical centre; and controlling mass gathering on the university campus.
In the statement, the student body urged university administration to listen to their demands and take immediate steps.