Covid-19 cases cross 50,000 mark in Chattogram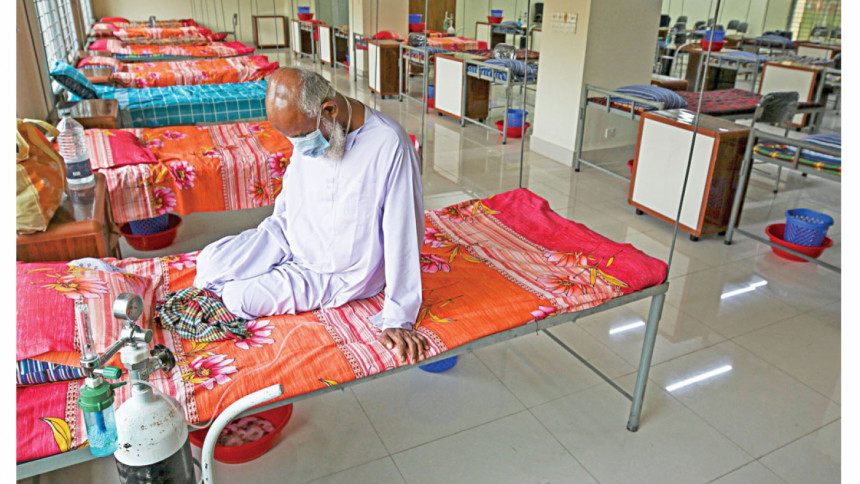 With 185 new cases detected in 24 hours till 10pm yesterday (Friday), number of Covid-19 cases has crossed the 50,000 mark -- 393 days into the detection of the first case -- in Chattogram.
With the new cases, number of positive cases in Chattogram now stands at 50,090, out of over four lakh samples tested with the overall positivity rate at 12.30 percent, said sources in Chattogram Civil Surgeon's office.
A total of 524 patients died during the time, putting the death rate at 1.05 percent compared to number of detected cases.
Although overall death rate is just one percent compared to number of detected patients, the rate of death has increased by double in the recent days which has created a concern.
For example, a total of 995 cases were detected between April 26 and 30 while a total of 20 patients died during this time putting the death rate at over two percent.
However, according to experts, rate of death has not increased, rather a huge number of both symptomatic and asymptomatic patients remain out of trace.
They opined for increasing the number of tests to identify the infected people and to make them isolated.
"The overall death rate is one to 1.5 percent in Covid-19 cases all over the world. Our country is not an exception," said Public Health Expert and Head of Bangladesh Institute of Tropical and Infectious Diseases (BITID) Laboratory Prof Dr Shakeel Ahmed.
"When death rate goes higher than it in any country or in any certain area, say, a district, we have to understand that many infected patients remain out of tracing," he said.
"The ratio between Covid-19 cases and death should be 100:1," he said.
"For example, four patients died of Covid-19 in Chattogram yesterday (Friday) while number of detected cases was 185. But according to world statistics, number of cases should be 300 to 400, if the number of deaths is four," he said, adding, "If 20 patients die in five days, number of patients should be 1,500 to 2,000 but we could just trace 995 patients."
"So we will have to increase the number of tests to identify both symptomatic and asymptomatic people so that we can isolate them and the people who come in contact with them in 14 days," said Prof Shakeel, adding, "If we fail to do it, we would always be at risk of a new wave."
Echoing the same, Dr Mamunur Rashid, a public health expert and associate professor of clinical and tropical medicine at BITID, said increasing the number of tests is very vital to curb the pandemic.
"We have been urging to increase the number of tests from the very onset of pandemic to identify and isolate the infected people," he said, adding, "On Friday, number of tests in Chattogram was 1,604 while the number was on average 1,300 last week but it should be increased to at least 4,000."
"We have now a number of laboratories in both government and private hospitals for testing Covid-19 and we should avail it," he said.
Putting importance on increasing the number of tests, Dr Mahfuzur Rahman, convener of Public Health Rights Protection Committee, Chattogram, said awareness should be developed among  people regarding it, adding, "People in rural areas in the district and slums in the city are unaware of it; many have the misconception that Covid-19 is a disease that only affect rich people. We have to make them aware."
"Besides, fee in private hospitals to test Covid-19 should be reduced by half," he said.
Dr Sheikh Fazle Rabbi, civil surgeon of Chattogram, said fee in private hospitals would be reduced if the government issues an order regarding it.