Xulhaz-Tonoy murder: Key accused confesses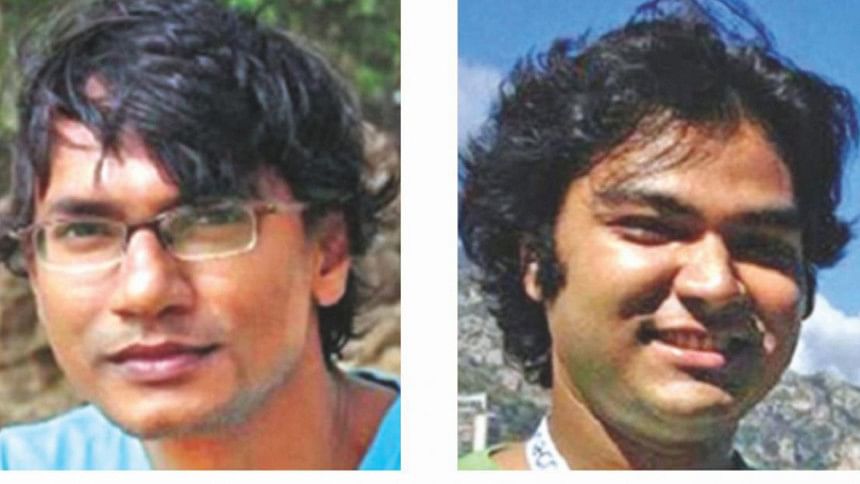 A key accused in the case on the sensational killings of LGBT magazine editor Xulhaz Mannan and his friend in 2016 today confessed to the crime to a magistrate in Dhaka.
Asadullah alias Fakrul alias Faisal, 25, who was arrested by law enforcers from Tongi on January 15, confessed that he along with four others took part in the murders.
They killed Xulhaz, also a former USAID staff, and his friend Khandoker Mahbub Rabby Tonoy as they were working on homosexuality in Bangladesh which is not allowed here, Asadullah said in the statement. 
Metropolitan Magistrate Md Mainul Islam recorded Asadullah's confession for over three hours at his chamber after Md Manirul Islam, an inspector of Counter Terrorism and Transnational Crime (CTTC) Unit of Dhaka Metropolitan Police (DMP), produced him for recording the statement following completion of his second spell of three-day remand.
"I was one of the two ABT men who stabbed and obstructed the security guard of Xulhaz's home in the capital's Kalabagan for letting the three others hack the duo to death in a flat," Asadullah said in his statement, court sources said.
The plan was orchestrated by ABT operation commander Maj (sacked) Syed Ziaul Haq and several others were involved with the double murder, Asadullah confessed.
After recording the statement, the magistrate ordered to send Asadullah to Dhaka Central Jail in Keraniganj.
A Dhaka court on January 20 placed Asadullah on a three-day fresh remand to gather more information about the murders of Xulhaz Mannan and his friend Mahbub Rabby Tonoy. 
Asadullah was earlier placed on three-day remand after he was produced before a Dhaka court following his arrest.
On January 15, a CTTC team arrested Asadullah from a house in Gazipur's Tongi area in the evening.
Asadullah, an active member of banned militant outfit Ansarullah Bangla Team (ABT), is one of four ABT men who have so far been arrested in connection with the double murder. The three others -- Saimun alias Shahrier, Arafat Siam and Sheikh Abdullah Jayed -- had earlier given confessional statements before magistrates, CTTC officials said.
USAID staff Xulhaz, who used to work as a protocol officer of former US ambassador in Dhaka Dan W Mozena, and his friend Khandoker Mahbub Rabby Tonoy were hacked to death inside Xulhaz's flat on April 25, 2016.
Five killers, aged between 25 and 28, were seen running away in the footage of a CCTV camera installed about 300 yards from the house.
CTTC Chief Monirul Islam said seven militants directly took part in the operation. Posing as couriers, five from the ABT's operational wing entered Xulhaz's house to execute the murder. Two others from its intelligence wing stayed outside.
Three members of the outfit's operational wing are still on the run, he added.
According to CTTC officials, Asadullah, also a former Chhatra Shibir activist, got involved in militancy in 2015 and came to Dhaka in January the following year. At a hideout in the city's Uttar Badda, he took training on how to use machetes, guns and kill people. 
During an anti-militancy drive at the hideout on February 19, 2016, Asadullah had stabbed then police inspector Bahauddin and fled away with the cop's firearm. Bahauddin has identified Asadullah as his attacker seeing his photograph after his arrest, Monirul said.
CTTC officials claimed Asadullah had a close connection with Maj (sacked) Zia who gave him organisational directives using a secret messaging app even on January 6 this year. Zia has been on the run.
Son of retired madrasa teacher Emdadul Haque in Jhenidah's Maheshpur upazila, Asadullah completed Dakhil (equivalent to SSC) from a local madrasa. Later, he studied at Jashore Polytechnic Institute.
Family members suspected that he was radicalised during his stay in Jashore.