JOBLESS POOR, DISADVANTAGED GROUPS
Technical training a solution
Swisscontact,The Daily Star roundtable told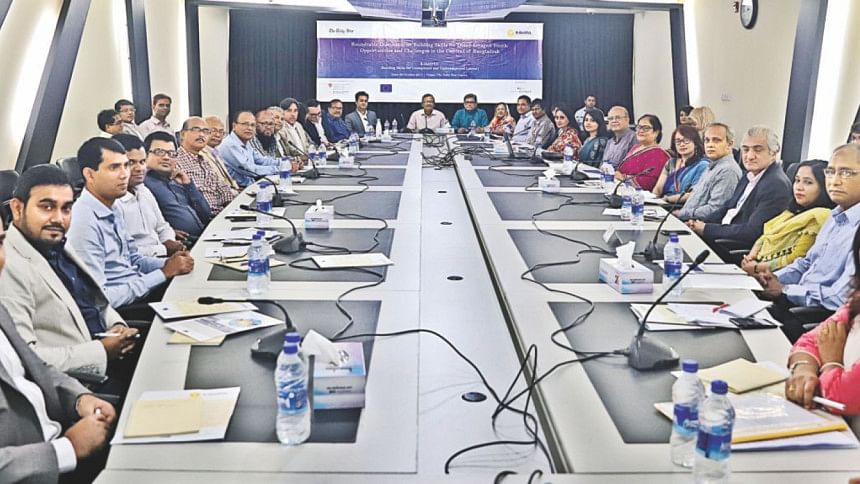 Speakers at a roundtable yesterday underscored the need for providing technical training to the poor and disadvantaged groups to help them secure jobs and improve their livelihood.
They said the disadvantaged groups of people also have to be provided with behavioural training so that they can adjust to the new working environment at home and abroad.
Development organisation Swisscontact in association with The Daily Star organised the roundtable on "Building Skills for Disadvantaged Youth: Opportunities and Challenges in the Context of Bangladesh" at The Daily Star Centre in the capital.
Speakers said industry owners, mainly those who are involved in the informal sector, have to ensure due rights of their workers.
Swisscontact has been implementing a project "B-SkillFUL", jointly funded by Swiss Agency for Development and Cooperation (SDC) and European Union, since November, 2015 in Bangladesh. The project aims to provide demand-driven skill training to 40,000 poor and disadvantaged men and women and help at least 70 percent of them get jobs by January, 2020.
Matiur Rahman, team leader of B-SkillFUL, said they provided training to 9,808 individuals and helped 2,992 of them secure jobs till June, 2017, against the reality of 20 lakh people entering into the country's job market each year.
The project facilitates entrepreneurship training and financial linkage, and builds awareness among workers and owners about labour rights, he said.
Manfred Frenholz, team leader of Food and Nutrition Security and Sustainable Development of EU, said more initiative like B-SkillFUL is required from both the government and private sector stakeholders considering the high unemployment rate in Bangladesh.
Moderating the roundtable, Salehuddin Ahmed, adjunct faculty of Independent University, Bangladesh, said government and private stakeholders have to implement their policies at the field-level to get due result.
Nepal Chandra Karmakar, deputy director of National Skills Development Council, said alongside providing skills training, employers should also consider a better wage structure. 
Sheepa Hafiza, executive director of Ain O Salish Kendra (ASK), stressed the need for addressing human rights and gender-sensitive issues through creating awareness at workplaces.
Welcoming the initiative, Brig Gen (retd) Shahedul Anam Khan, associate editor of The Daily Star, said providing skills training is a "dynamic and continuous process". The newspaper will play its due role in turning the country's population into a skillful manpower, he said.
Prof Manzoor Ahmed of Brac University; Derek George, deputy director, Cooperation, SDC; Anirban Bhowmik, country director, Swisscontact; Salauddin Kasem Khan, managing director, AK Khan and Company; Prof Masuda M Chowdhury, vice president, National Association of Small Cottage Industries of Bangladesh; and Atiqul Islam, president, Center of Excellence for Bangladesh Apparel Industry, among others, spoke at the roundtable.