Teacher humiliation: N'ganj cops get more time to submit report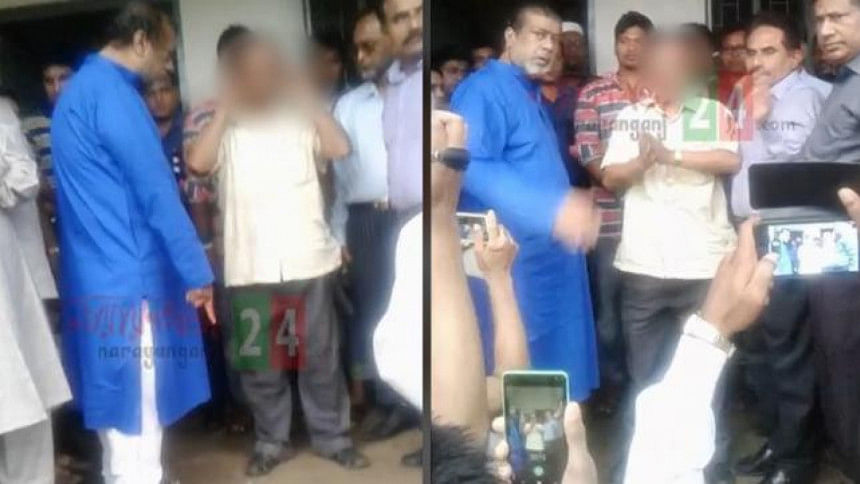 The High Court today directed the superintendent of police and officer-in-charge of Bandar Police Station in Narayanganj to submit detailed reports by August 4 on the incident of public humiliation of schoolteacher Shyamal Kanti Bhakta.
The bench of Justice Moyeenul Islam Chowdhury and Justice Md Iqbal Kabir came up with the order in response to time petitions filed by the SP and OC.
The court fixed August 7 for further hearing on the issue.
On May 29, the HC bench on a suo moto rule ordered Narayanganj's deputy commissioner and the two police officials to submit separate detailed reports specifying the steps taken against those involved in humiliating Shyamal to this court today (June 9).
READ MORE: N'ganj cops seek 2 months for submitting reports
The bench the same day also expressed dissatisfaction over their earlier reports, saying the reports submitted by the DC, the SP and the OC were not prepared in line with the rule and order.
Meanwhile, the bench expressed satisfaction over a report submitted by the deputy commissioner on the humiliation incident today.
On May 13, AKM Salim Osman, Jatiya Party lawmaker from Narayanganj-5 constituency, was seen instructing Bhakta to do squats holding his ears. Before that, Shyamal was beaten up by a mob.
The HC bench issued the suomoto rule On May 18 asking the authorities concerned to explain as to why they should not be directed to take necessary legal actions against local lawmaker Salim Osman and others, who were involved in humiliating Shyamal Kanti Bhakta.
The court also directed the DC, the SP and the OC to submit separate reports on steps taken against the perpetrators responsible for the humiliation.
The education ministry had earlier submitted another probe report saying that the Piyar Sattar Latif High School committee forced Head Teacher Shyamal Kanti Bhakta to resign with unproven allegation that he had hurt the religious sentiment of the Muslims.
The allegation brought against Shyamal was not found to be true, the probe body said, adding that relevant rules were not followed in suspending him. Later the teacher was reinstated.