HC wants details on N'ganj teacher humiliation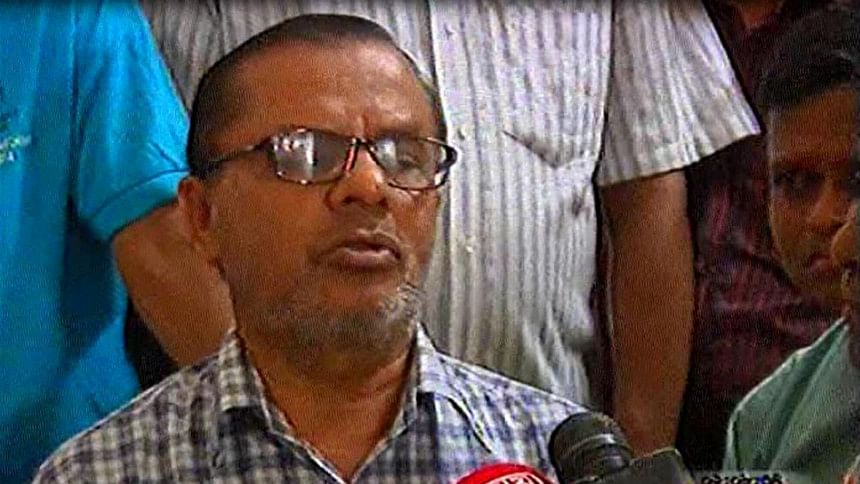 The High Court today directed the authorities concerned to submit before it three detail reports specifying the steps taken against those responsible for humiliating Narayanganj teacher Shyamal Kanti Bhakta.
The Narayanganj deputy commissioner, superintendent of police and officer-in-charge of Bandar Police Station will have to submit the reports before the court by June 8.
The court will take action, if the reports will not be prepared sincerely, the HC said. 
ALSO READ: Humiliation of teacher: Islamist group comes to MP's defence
The bench of Justice Moyeenul Islam Chowdhury and Justice Md Iqbal Kabir came up with the order after expressing dissatisfaction over the three reports submitted by the DC, SP and OC before it today.
READ MORE: 'I was humiliated by a lawmaker'
The bench said the reports were not prepared in line with the suo moto rule issued by this court on May 18.
The court expressed dissatisfaction saying that there was no specific explanation on the steps taken against the perpetrators, said MK Rahman, one of the two lawyers who placed before the HC different newspapers' reports on the incident for necessary order.
Shyamal, headmaster of Piyar Sattar Latif High School in Bandar area, was beaten up by a mob and made to squat holding his earlobes in the presence of local Jatiya Party lawmaker AKM Salim Osman on May 13.
Locals in presence of a local MP punished him for allegedly making offensive comments about religion while meting out corporal punishment to a student of the school on May 8.
A video clip of the incident has gone viral on social media, triggering public outrage and a firestorm of protests on social networking sites.
Agitated Facebook users began uploading photos in their profiles, showing they were holding their ears in a token of apology shown to the headmaster with a "sorry sir" statement.
Following that, managing committee of the Piyar Sattar Latif High School suspended Shyamal. But later he was reinstated in the school after a probe committee formed by the education ministry found the allegation of demeaning religion found untrue.