Public sufferings mount as bus 'strike' continue for 3rd day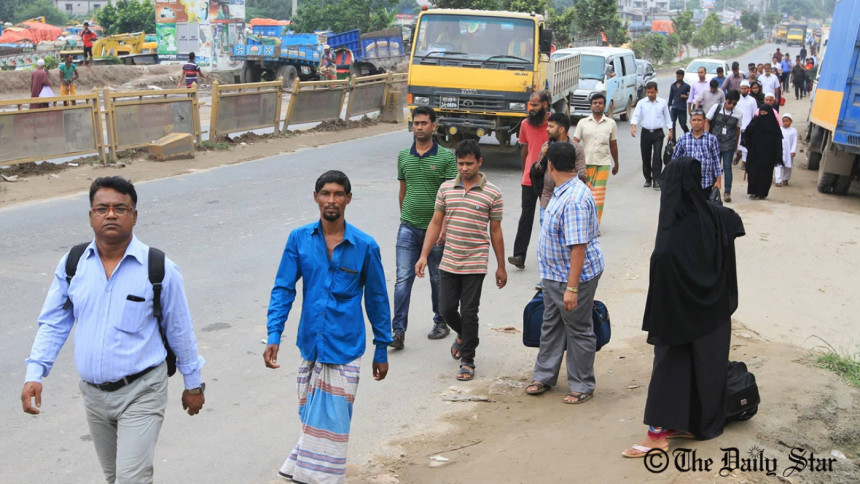 Long-route bus service remained suspended for the third consecutive day today as an apparent counter-programme against the ongoing student movement for safe road, causing immense sufferings to people across the country.
No long-distance bus left or entered Dhaka through Gabtoli, Mohakhali and Saidabad bus terminals.
Kazi Wazed, officer-in-charge of Jatrabari Police Station, said that no inter- district buses left Saidabad bus terminal in the morning.
Many people were seen moving on foot and some taking rickshaws to reach their destinations.
Office-goers failed reach their destinations due to acute shortage of public transport.
Many passengers alleged that drivers of other mode of vehicles, including rickshaw and CNG-run auto-rickshaws are charging extra fare amid the crisis.
Asad, traffic inspector of Abdullahpur, said that they are controlling traffic on roads as traffic week has begun today. Though the number of inter-city buses were very few, there are private cars, micro buses and other vehicles plying on the roads, he said.
Amid the growing student movement over a nine-point demand, Dhaka Metropolitan Police (DMP) Commissioner Asaduzzaman Mia on Saturday announced to observe Traffic Week across the country from Sunday to reinforce discipline on roads and highways.
Bus owners on Friday stopped operating long-route buses in different districts protesting 'vandalism' during the ongoing demonstrations of students demanding justice for their two fellows who were killed in a road crash in the capital.