RU prof 'discovers shinier, stronger' golden fibre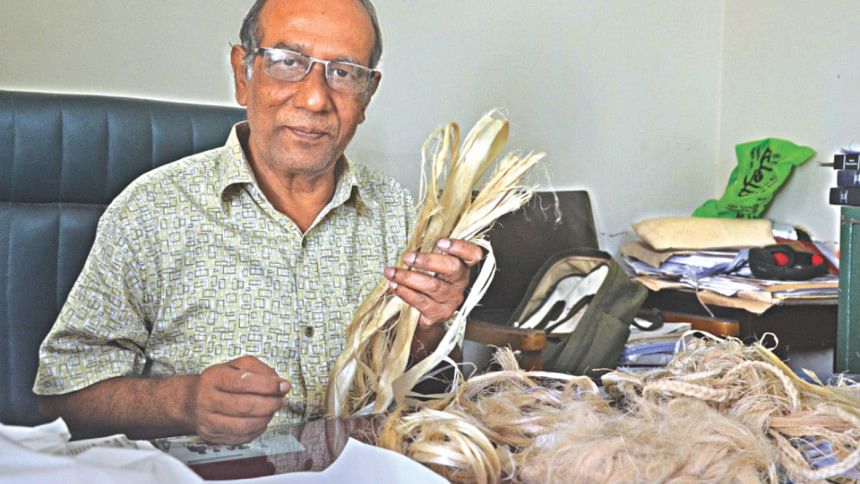 A pharmacy professor of Rajshahi University has claimed to have discovered a new natural fibre and said this golden thread is better than jute or linen.
Prof Anwar Ul Islam has already finished a four-year research on the fibre and called upon textile experts to work on his findings and see whether it could be produced commercially.
"The fibre surpasses the brightness, softness and strength of jute and linen," he said in a recent interview with The Daily Star.  The former science faculty dean said it would be useful for making comfortable clothes.
According to a 2016 report of fortnightly Apparel News, the fibre is "quite comfortable like the cotton as well as very glossy, which would bring brightness and shine in the clothes."
Prof Anwar, who is currently working with US scientists on anti-cancer medicines, calls his findings a "by-product of his regular hit-or-miss experiments".
Graduating in pharmacy from Dhaka University, Anwar did his PhD in India in 1983.
He joined RU in 1991 after serving a pharmaceutical company for some years. Apart from teaching, he conducts experiments, often out of his personal necessities.
The professor developed a herbal nasal drop when he suffered cold, and produced a hair tonic and a fairness cream from herbs when he felt he was ageing.
The new fibre came up in the middle of these experiments.
"I spotted a plant four years ago when I needed a plenty of fibres for tying plants to sticks at my garden," said the professor who resides in a spacious house on the campus. "Then I found out a microorganism that helps obtain quality fibres from the plant's stem."
Prof Anwar declined to give the names of the plant and the bacteria, which helps extraction of the fibre from the plant's stalks, because he has not got a patent on his discovery yet.
The scientist conducted the research all by himself, starting in 2013.
In the last four years, he experimented with the plant and microorganism and finally obtained the golden fibre which came out "strong, bright as well as soft", he said.
The extraction process of the fibre is the same as jute's.
Prof Anwar, also the editor-in-chief of Bangladesh Pharmaceutical Journal, said he completed his experiments on the fibre a few months ago and was preparing to obtain its patent.
He named the fibre after his parents -- "Rahima-Khaleque Power Fibre", or simply "RK fibre". 
The plant from which the fibre is obtained was never used for collecting fibres anywhere in the world. Nor was the microorganism or bacteria ever used for rotting the plant's stem to extract any fibre, he said.
The plant grows almost everywhere in Bangladesh, he said.