RMG workers freed Adabor Ring Road after 4hrs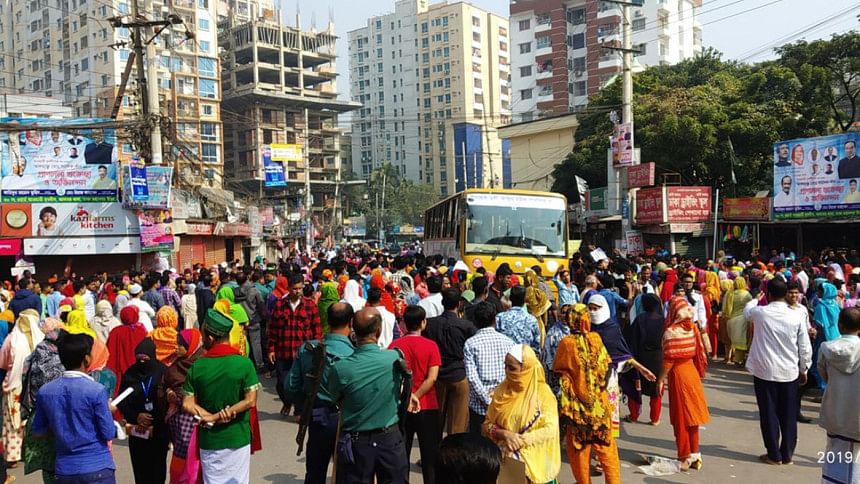 The garment workers, who blocked the Ring Road in Dhaka's Adabor area, withdrew their agitation prgramme after four hours following assurance from the factory owner that their demands would be met.
Several hundred workers of 'Dynamic Fashion Ltd' blocked the Ring Road, one of the widest roads in Mohammadpur and Adabor area, around 8:30am claiming that their factory owners disbursed salaries as per the previous pay scale.
The blockade resulted in severe gridlock in the area, our staff correspondent reported.
Around 12:30pm, the owner of the garment factory assured the workers that their demands would be met immediately, said the workers.
Following the assurance, the agitating workers lifted the blockade bringing normalcy in traffic movement.
The workers took to the street this morning alleging that they were given their salaries yesterday as per the old pay scale but they demanded that their salaries be paid according to the revised pay scale published on Sunday.
The workers were pressing for a 10-point demand which includes distribution of salaries as per the new pay scale, timely payment and 100 percent festival bonus.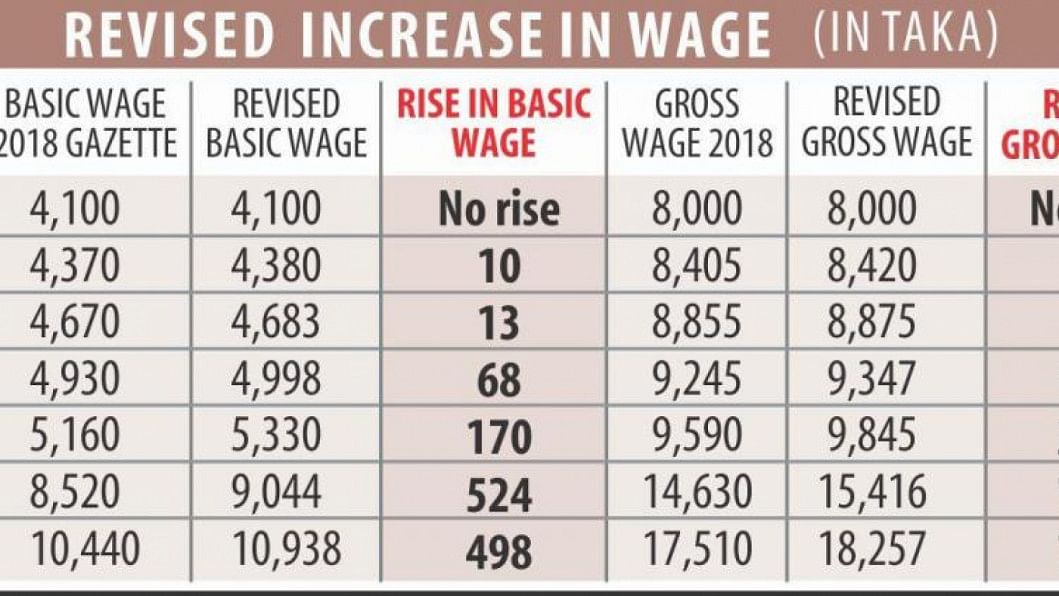 How the workers' unrest unfolded?
The garment workers began their agitation on January 6 protesting over pay disparity in the gazette on new pay scale published by the government last year.
The workers have alleged that the monthly wage in the seventh grade increased to Tk 8,000 from Tk 5,300 as per the gazette. But, the salary of the workers in other grades did not increase at the same rate.
The salary hike for the entry-level workers was more than that of their senior operators, who have been working for more than seven to eight years. The new wage has been effective from December 1. Major disparity in the salary hike was noticed in the third and fourth grades as their salaries were not raised like that of entry-level workers.
In most of the grades, other than the seventh, only Tk 500 was raised in the new salary structure, whereas an entry-level worker's salary had increased by Tk 2,700 at one go.
Later, on January 13, the government announced revised wages in six grades for garment workers after eight days of labour unrest.
What is the revised pay scale for RMG sector?
According to the revised pay structure for the garment sector, there is a slight increase in both basic and gross wages in six of the seven grades.
The gross hike ranges from a token Tk 15 to a modest Tk 747, effective from December last year and to be adjusted from February.
In the new pay scale, which comes after years, the annual increment has been fixed at 5 percent.