1,000 workers of Dhamrai garment factory protest indefinite closure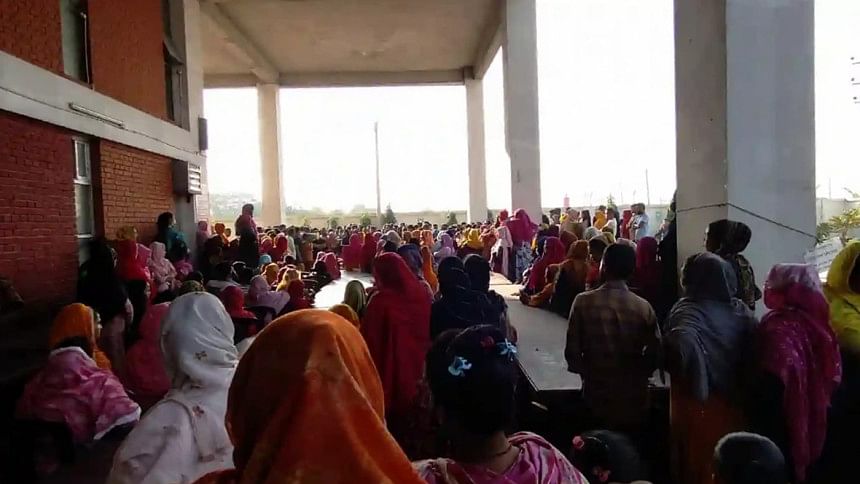 Workers of a garment factory in Dhamrai upazila of Dhaka today held a sit-in in front of the establishment to protest its closure for an indefinite period.
About 1,000 workers of Momo Fashion Limited took part in the protest in Joypura area, demanding the factory be run according to the labour laws, reports our Savar correspondent.
A strike was held by the workers yesterday to press home the demand of labour laws being implemented, said Arobindo Bepari (Bindu), president of Biplobi Garments Workers Federation.
He said the owners of the factory had assured the striking workers that their demand would be met so that they call off the strike.
"But today, when the workers came to work, they saw a notice that the factory was closed indefinitely under section 13/1 (labour law)," he added.
"The workers demand that the factory be opened and run as per the labour laws," he also said.
Abu Jafar Mohammad Saleh, assistant superintendent of Ashulia Industrial Police-1, said the factory has been declared closed by the owners. There are around 1,000 workers in the factory and they took position in front of it.
However, the law and order situation of the area is normal, the police official said, adding that he did not know the reason behind the closure of the factory.
Moshiur Rahman Mamun, chairman of Momo Fashion Limited, did not respond to calls by The Daily Star for inquiry.