Withdraw time bar on Pahela Baishakh celebrations: Rights body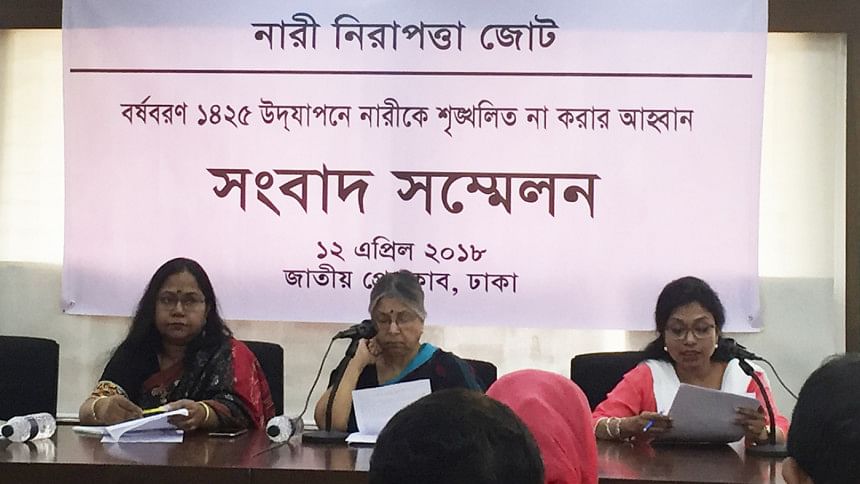 After coming down heavily on the government instruction to finish all celebration programmes of Pahela Baishakh at open places by 5:00pm, a women rights body today demanded withdrawal of such restriction.
The government decision on wrapping up all programmes by 5:00pm on April 14 ultimately gave a scope to the perpetrators as the authorities will not take any responsibility if any harassment incidents take place after that time, human rights activist advocate Sultana Kamal told at a press briefing in Dhaka.
The briefing was jointly organised by Nari Nirapotta Jote and Amrai Pari in capital's Jatiya Press Club.
The rights platform Nari Nirapotta Jote was formed following the incidents of sexual assault on women on the Dhaka University campus on the day of Bangla New Year celebrations in 2015.
The celebrations are universal and the law enforcers should provide round-the-clock security to the citizens, Sultana Kamal said.
It is the freedom of a person to decide when he or she will stay at home and remain outdoors, she said.
The women rights platform also came up with a four-point demand in connection to the Bangla New Year 1425 celebrations:
1. Withdraw the time bar given by the government
2. Open spaces should be made congenial for both men and women
3. Give priority to women security
4. Bring the perpetrators of all sexual harassment incidents to justice
Mahua Lea Phulia, programme coordinator of Manusher Jonno Foundation (MJF), read out the demands at the press briefing.